NINE DALMUIR WEST - A Record of the Last Weekend of the Glasgow Trams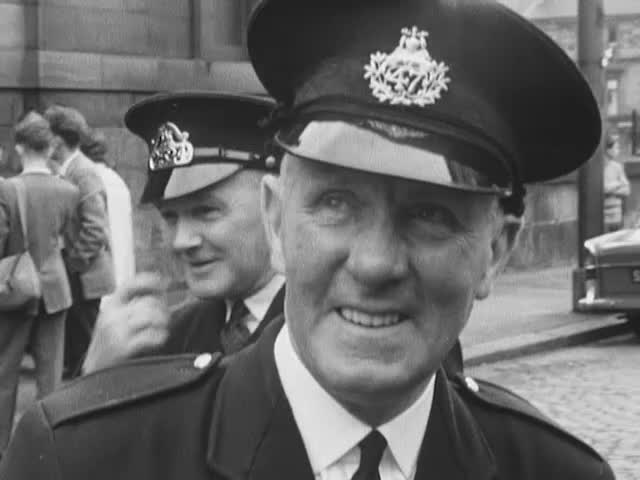 This video is not available to view remotely
Full length video - onsite only
Please read Understanding catalogue records for help interpreting this information and Using footage for more information about accessing this film.
Title: NINE DALMUIR WEST - A Record of the Last Weekend of the Glasgow Trams
Reference number: 2114
Date: [1962, September 4]
Director: filmed by Kevin Brownlow
Sound: sound
Original format: 16mm
Colour: bw
Fiction: non-fiction
Running time: 12.46 mins
Description: Shots of the route of the No. 9 service to Dalmuir on the last day of the trams in Glasgow [4th September, 1962]. Shows the crew at work, in the depot and at a dance to mark the end of the services. Enthusiasts are seen lining the streets watching the last cavalcade.

See also ref. 0929. For enquiries relating to copies of this title, please contact the British Film Institute directly at footage.films@bfi.org.uk
Credits: comm. w. George Behrend
comm. s. Paul Dickson
sd. ed. Susan Michie
p. Prince Marshall
[collaborators Mamoun Hassan, Johanna Roeber. With affectionate memories of John Krish's classic THE ELEPHANT WILL NEVER FORGET the film about the last London tram....
Shotlist: brief shot of Bridgeton bound tram, titles (0.28) tram journey in London past St. Pancreas station (0.48) tarpaulin covered double decker tram on back of lorry in Glasgow, c/u man looking out back (1.07) view over Glasgow rooftops, a myriad of chimney pots (1.17) int warehouse, shots of lockers, group photographs, old tram signs and tools lie scattered (1.33) c/u feet walking on cobbled streets with tram rails set in them (1.38) c/u newspaper headlines 'End of Line for Glasgow 'Caurs' (1.48) rush hour, people boarding No.9 on Argyle street outside Central station underpass (1.58) underneath underpass, gvs trams (2.10) int tram, c/u peoples faces (2.28) 'all cars stop here sign' (2.33) idle trams in Corporation yard (2.44) Trongate, tram driver watches trams, diesel and trolley buses towards East end (2.55) D&W Henderson shipyard gates closing (3.03) trams at night, lights on. Int, women selling tickets 'clippie', gvs passengers (3.49) c/u female driver (4.02) ticket collectors counting fares, c/u coins on counter (4.11) female driver who joined Corporation in 1916 visiting colleagues in depot (4.27) brief shot rooftops (4.28) view from mechanics pit of tram driving o/head (4.42) tram leaving depot driven by woman smoking and drives along street to Mercat Cross to s/track of early 60's hit 'Telstar'. C/u her hands operating controls and wheels of tram; tracking shots from tram cab (5.21) ms Mercat cross; c/u plaque, covered in graffiti "The Mercat Cross of Glasgow Built in the Year of Grace 1929" (5.30) signs of Plaza ballroom on South side (5.30) c/u 'Barr's Irn Bru the perfect mineral water' sign; old man with sticks crossing in front of tram (5.57) c/u woman driver intercut with street scenes. Fruit and vegetable market, passing binmen, workmen (6.25) tram stops and people board (6.37) small children running into tenement close, gvs tram on journey (6.50) int tram; passengers taking their seats; c/u policeman standing; tracking shot tram (7.11) changing of destination blind; ms manual switching of points; ints. reversal of seats; bow collector swung over roof (7.08) c/u boy taking photograph and changing film spool; (7.34) crew changeover point where branch line leads to depot (7.53) c/u badge of Glasgow Corporation Transport, gvs inspectors. Tram enthusiasts filming (8.07) ints. depot; nucleus of Transport Museum featuring trams dating from 1910. View of scrapped trams after being broken up and burned intercut with shots of trams on their routes (9.04) tram carriage aflame, camera pans up to dockyard cranes in skyline (9.38) c/u sign over door: "Bothy"; ints. uniformed crew in rest-room smoking and playing cards; ls women waving goodbye as they walk through the depot gate, since "the Corporation does not employ women bus drivers" (10.20) tram on route again accompanied by 'Telstar'. Montage of people boarding, driver and tram wheels (10.50) night time, police on streets as the last tram heads towards Dalmuir West intercut with 'funeral wake' held by crews at Dalmarnock depot. Lively accordion music, dancing and drinking. C/u crews chatting, people dancing (11.58) tram passes through crowd lined streets with people waving and cheering, intercut with shots of dance (12.19) crowded, brightly lit tram enters depot to cheers; people singing and drinking at dance (12.36) view of daytime street from interior of tram, driver's hand waves at oncoming tram (12.42) ecs (12.46)