BUILDING THE NEW CHRYSLER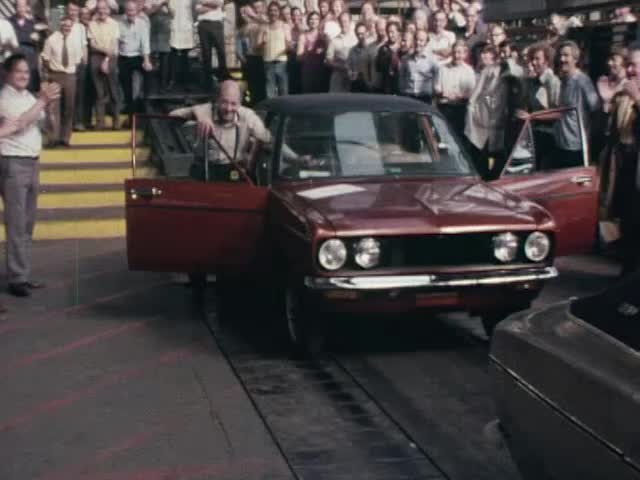 This video is not available to view remotely
Full length video - onsite only
Please read Understanding catalogue records for help interpreting this information and Using footage for more information about accessing this film.
Title: BUILDING THE NEW CHRYSLER
Reference number: 2104
Date: 1976
Director: w. & d. John M. Mills
Sponsor: Chrysler Corporation
Production company: Formula One Films
Sound: sound
Original format: 16mm
Colour: col
Fiction: non-fiction
Running time: 35 mins
Description: A film which outlines a deal made by UK Government in 1976 to aid Chrysler's struggling UK operation. Investment was provided in the form of £162.5m in loans and grants, partly to rebuild production lines and improve efficiency. Includes sequences about Chrysler's other operations in Europe, and general views of the renovation of Linwood and Ryton plants.

Chrysler Europe was sold to Peugot for a nominal $1 sum in 1978. The Linwood factory closed in 1981.

See also refs. 0085 and 1480.
Credits: cam. Bob Deing, Erik Durchsmied, David Findlay, Mario Ford, Mike Fox, William Green, Nick Gifford, Geoff Mulligan ed. Raoul Sobel, John Dinwoodie
dub. Peter Rann
prod. man. Patricia Harvey

Shotlist: [First 19 seconds unstable] sequence showing plant computers and operators, including a computerised drafting mechanism (0.42) headshot: Don Lander speaks of Chrysler's challenges (2.00) Building the New Chrysler Chrysler production line processes of manufacture intercut with ship "Strathanna" transporting crates c/u stencil "Chrysler Todd Wellington" v/o outlines car industry's importance to British economy, and Chrysler's attempt to stay in the UK (2.20) exts. intv. Convenor of Shop Stewards, John Carty (2.39) Aerial view of Chrysler factory (2.50) British Government Loan for Capital Expenditure £55m; Chrysler Corporation Security for Government Loan: Guarantee plus Chrysler UK assets £55m... titles continue, laying out conditions of UK Government's aid to Chrysler (3.12) headshot Don Lander, Vice President of Chrysler, Europe speaks of the deal with the government (4.45) gvs Ryton-on-Dunsmore plant; last Avenger made in England rolls off production line, 627126th made (5.25) gvs building work within the plant, costing £6m (6.28) Project meeting to discuss progress (7.12) Sign "Chrysler Scotland Ltd."; gvs construction of new production facilities, including a new link building at Linwood (7.55) c/u sign "Linwood Plant Main Gate North"; gvs building work under the factory floor; expansion painting plant; lorry delivering equipment through a hole knocked into the factory wall (8.26) exts " Chrysler Stoke Power Train Plant" development of equipment, installation of new processing equipment, costing £52k (9.13) exts. Dunstable plant; production of vans; 'Dodge' commercial vehicles (10.22) Don Lander speaks to auditorium (10.47) exts. "Chrysler España"; Madrid (10.56) production intercut with a car driving through narrow streets in Spain, and a "Barrieros" truck (12.08) exts. Chysler France in Poissy (12.18) ints. R&D Department (13.40) gvs Simca drives through Paris (14.12) car is assembled by team of supervisors in Poissy, visiting from the UK (15.47) Ryton plant; talking head: Bob Irwin (16.22) Paint-shop foreman, Bob Nichols; Shop Steward, Jack Pierson (17.13) Ariel views of the Alpine car crossing a bridge (17.40) intv. John Carty intercut with piper (18.28) gvs production (19.14) talking head: Chrysler Scotland Managing Director Malcolm Fresnay, intercut with John Kay, who speaks of a desire to prove that "some politicians... and some economists [were] wrong... especially about what was going to happen to Linwood" (20.10) Packing wooden crates for international trade (21.00) ints. Ryton; project meeting; production (24.23) tracking shots Chrysler cars (24.30) talking head: Don Lander (25.00) gvs Chrysler Corporation in Detroit; design testing processes (25.47) ecs