FAIR COUNTY OF AYR, the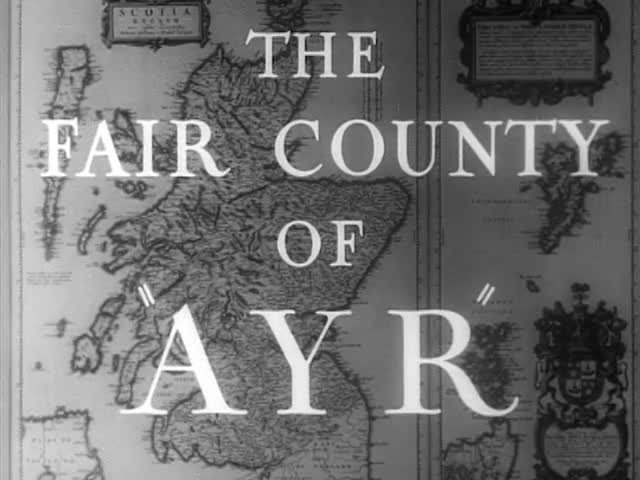 This video is not available to view remotely
Video 1

(currently displayed video)

Full length video - full length available onsite

Agricultural activities in Ayrshire, including a sheep market, manual ploughing and gathering in the hay. (clip)
Please read Understanding catalogue records for help interpreting this information and Using footage for more information about accessing this film.
Title: FAIR COUNTY OF AYR, the
Reference number: 2088
Date: 1949*
Director: d. Charles Heath
Sponsor: Ayr County Council
Production company: Anglo Scottish Pictures
Sound: sound
Original format: 35mm
Colour: bw
Fiction: non-fiction
Running time: 32.52 mins
Description: General views of the county of Ayr, including its farming and fishing industries, mills, distillers and mines. The film looks at Burns' country, and leisure activities including horse-racing, the county's beaches and golf courses.
Credits: ed. John Ferris
p. Eugene Andrews
m. Philarmonic Orchestra
d. James Walker
comm. w. James Burke
comm. s. Jim McKechnie
Shotlist: Credits. Scenes of ruined castle at Dunure, Crossregal, Kilwinning, Dundonald, Culzean and Greenan. Shots of cows at market. Sheep being driven to market, one escapes. Tilling the soil and harvesting potatoes. Cows are cleaned prior to milking. Egg collecting, the art of butter churning and a cheese factory. Diagnosing plant diseases. General views of fishing boats and fishermen catching fish and swabbing the decks. Shots of fabric, carpet and lace mills. Shots inside the mills and of finished products. Making furniture. Coal mining, steel works, whisky distillers. General views of Ayrshire countryside. Shots of remembrance stone for Robert the Bruce. Pipers marching through town. The Tam o'Shanter Inn and Robert Burns' cottage. Shots of town planners at work. Aerial views of Ayrshire. Shots of modern housing. General activities in Ayr: at the race course, at the swimming pool, on board the steamer "Duchess of Fife", sailing boats, at the ice rink, fireworks, children in swingpark, on the beach, bowling, golf. General views of Prestwick Airport, planes taking off and landing (32.52).