BENS, the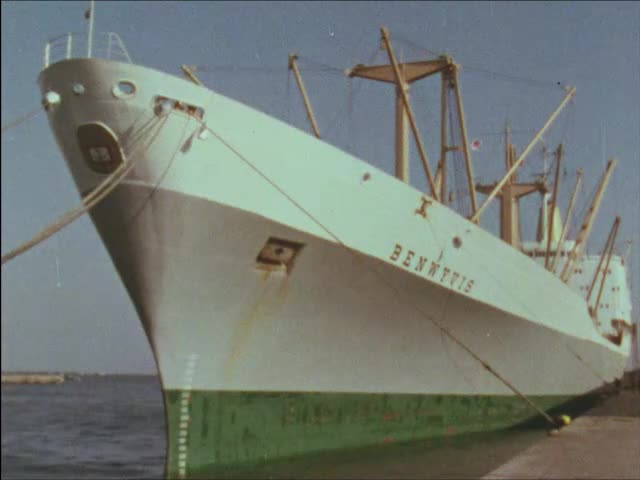 This video is not available to view remotely
Full length video - onsite only
Please read Understanding catalogue records for help interpreting this information and Using footage for more information about accessing this film.
Title: BENS, the
Reference number: 2000A
Date: 1967
Sponsor: Ben Line Shipping Company
Production company: Campbell Harper Films Ltd.
Sound: sound
Original format: 16mm
Colour: col
Fiction: non-fiction
Running time: 22.31 mins
Description: Promotional film for the Ben Line Shipping Company. Shows how the company operates worldwide, especially in the supply routes of the Far East.
Credits: sc. Robert Kemp
comm. s. Victor Carin
Shotlist: Credits (.21); Shot of personnel entering Benline head office in Edinburgh (.34); gv's of them at work operating in office (1.10); shot of man talking to camera about Benline operations between East and West (1.44); long shot of Benline freighter - the Benledi coming into Hong Kong harbour (2.53); shot of map of Europe and of world with all Benline routes from Britain (3.28); long shot of Singapore harbour, zooming in on the "Benlarig" (3.48); shots of lorry being unloaded onto quay helped by local workers (4.31); shot of the "Benrinnes" at quayside (4.31); and general shot of cargo boxes being unloaded from her hold (5.08) gv's of interior of head office, Edinburgh and communication network (5.28); shots of the launch "Benlui" in Hong Kong harbour (6.05); Pan shots of the "Benhope" and cargo of explosives being unloaded by crane and crew (6.49); shot of "Z" craft barge alongside vessel (6.53); shot of Hong Kong junk vessel panning slowly to shot of the "Benvorlich" (7.15); shots of cargo being loaded onto the "Benvorlich" (7.38); shot of the prow of the "Benvorlich" with harbour in background (7.48); shot of man at head office continuing story of Benline operations (8.14); shots of the "Benmacdhui" in Bangkok (8.48); shot of the "Benvenue" entering the river up to Bangkok (9.04); shot of Klongtoi harbour (9.25); shot of man continuing the story (9.37); shot of the "Benmhor" anchored at Singapore harbour (9.46); shot of freight train carrying metal containers of Dunlop Latex liquid rubber (9.49); shots of pipelines being set up to fill hold of liquid materials, e.g. latex, palm oil (10.58); shot of the "Bennachie" being loaded with rice and manufactured goods (11.31); shot of the "Benattow" at Singapore and goods being handled by container, shot of man using hawling devices - a 'Lancashire Flat', the 'pallet with cranefork', and the collapsible cage (12.00); shot of ACT container being unloaded (Associated Container Transportation Ltd) and placed in lorry (12.35); aerial view of the "Benreoch" in the China Sea (12.43); general views of Hong Kong harbour (13.34); shots of the "Benvrackie" in and leaving harbour (14.24); shots of the "Benlomond" and a five-ton crane unloading her hold of sheets of asbestos (15.06); shot of Benline directors discussing ships' plans at head office (15.53); shots of the "Bengloe" loading from junks at Hong Kong harbour (16.31); shot of the "Bengloe" going out to sea against background of worker's flats in Hong Kong harbour (16.48); gv's of Hong Kong harbour with ferries panning to shot of the "Benvalla" (17.31); shots of the "Benarmin" and the "Benarty" (17.50); shots of a derrick hauling a boat overboard into the water (18.14); shot of the "Benalbenach" receiving ceremonial party including young woman who gives flowers to captain (19.45); quayside in Kobi harbour and long shots of Yokohama (19.53); shots of the "Benwyvis" and cargo being unloaded, including a Mini (21.35); receding shot of Kobi harbour (21.46); shot of narrator at head office (22.07); ecs (22.31)