JOHN NEWLAND'S DAY, BATHGATE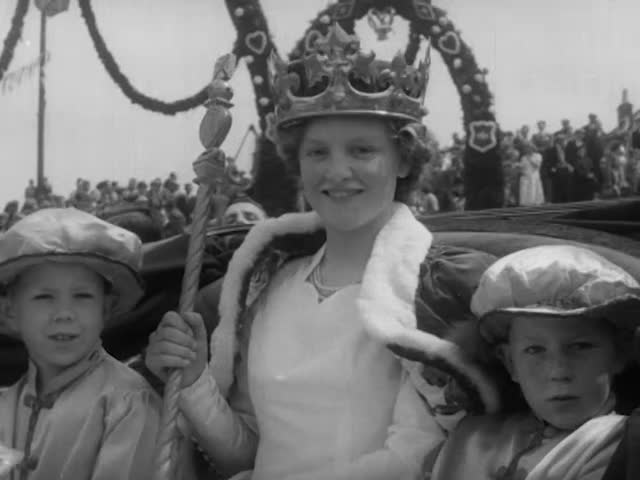 This video is not available to view remotely
Full length video - onsite only
Please read Understanding catalogue records for help interpreting this information and Using footage for more information about accessing this film.
Title: JOHN NEWLAND'S DAY, BATHGATE
Reference number: 1948
Date: [1953, June 6]
Production company: Elder Film Productions Limited, Glasgow
Sound: silent
Original format: 35mm
Colour: bw
Fiction: non-fiction
Running time: 14.34 mins
Description: Footage of John Newlands' Day, Bathgate with the crowning of the Gala Queen, racing and sporting events, and the laying of a wreath on John Newlands' plaque, on June 6th 1953.

See also website about John Newland's Day at http://www.bathgateprocession.com/ [last accessed 3/4/2008].
Credits: [made for local organising committee, Bathgate?]
Shotlist: Credits (.16); General views of crowning of Gala Queen (2.09); Shots of spectators as various dignitaries, civic officials, etc are "presented" to the "Queen" (4.15); Procession, Gala Queen and retinue (4.43); Wreath is laid on plaque commemorating John Newland on wall of house (5.18); Procession goes under decorated Newlands Arches (5.29); General views streets of Bathgate lined with people. Panning shots of crowds (6.26); General views of gala parade (9.47); Crowd disperses (10.06); Shots of park and various racing and sporting events, intercut with shots of the spectators (13.04); Group passes beneath Newlands Arches. Close up of the Arches (13.25); More scenes in park. Presentation by Gala Queen of prizes to winners of the various events (14.17); Bathgate public appreciate and thank the Committee for so successfully organising such a memorable occasion (14.28); End credits (14.34)