LOWLANDS OF SCOTLAND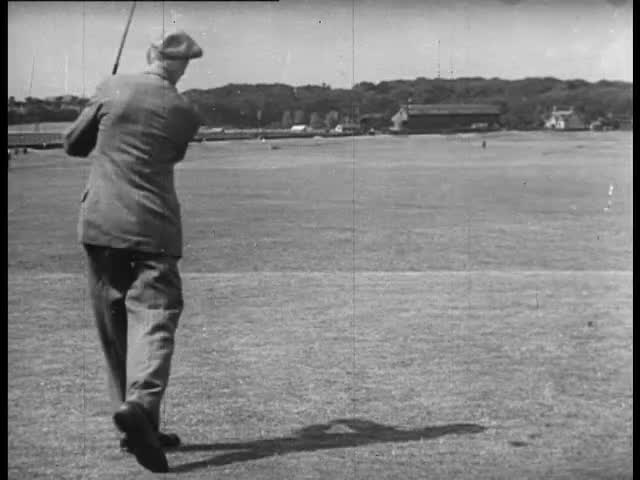 This video is not available to view remotely
Video 1

(currently displayed video)

Scottish golfer Willie Auchterlonie tees off at St. Andrews Old Course. (clip - onsite only)

The attractions of the Firth of Clyde and Loch Lomond as described by a 1940s travelogue. (clip - onsite only)
Please read Understanding catalogue records for help interpreting this information and Using footage for more information about accessing this film.
Title: LOWLANDS OF SCOTLAND
Reference number: 1939
Date: 1946
Sponsor: Travel Assoc. of GB, NI, and Scottish Tourist Board
Production company: Paul Barralet Productions Ltd
Sound: sound
Original format: 16mm
Colour: bw
Fiction: non-fiction
Running time: 15.33 mins
Description: A travelogue on the lowlands of Scotland, including footage of Burns' country, the Trossachs, and the towns of Stirling, Linlithgow, Edinburgh, and Glasgow."

Credits: Baze Productions Limited present ... Travelling Abroad No 5 LOWLANDS OF SCOTLAND. RCA Sound System
scenario and p. Paul Barralet and Richard Fisher
m. John Reynders
m. arrangement Hal Evans
ph. Lionel Wheeler
film. ed. Ivy Mulligan
sd. rec. J Woodiwiss
In association with the Travel Association of Great Britain and Northern Ireland and the Scottish Tourist Board.
[comm. w. and comm. s. E. V. H. Emmett]
Shotlist: Credits (0.26); General view of piper in countryside (0.51); View of Robert Burns' cottage (0.54); Eddison Farm, Burn's workplace, where he met Jean Armour (1.07); General views of old church in Alloway (1.30); Brigadoon (1.37); Burns monument in Alloway (1.41); View of old bridge in Ayr and statue of Burns (1.55); View of Glasgow's George Square (2.11); Shots of the Art Gallery and Glasgow University (2.34); Glasgow Green and the cathedral (2.54); View of the Stock Exchange and the River Clyde (3.14); The pleasure steamer "King Edward" and shots of shipyards on the Clyde (3.47); General views of the Kyles of Bute and Loch Long (4.32); Shots of Loch Lomond (5.05); General views of Stirling (5.19); Stirling castle and the Wallace monument (5.53); Shots of a bridge - "gateway to the Highlands" (6.58); Linlithgow Palace where James V and Mary Queen of Scots were born (7.26); Shots of tweed manufacturing factory (8.52); The Celtic church in St Andrews and shots of St Andrews University (10.19); View of St Andrews golf course (10.49); The Forth railway bridge and steam train (No 2511) (11.19); "The Flying Scotsman" pulling out of Waverley station (11.27); Edinburgh's Princes Street (11.31); Trams in Princes Street (11.39); St Alban's Church in Edinburgh (11.47); St Giles cathedral (11.54); Home of John Knox, priest and reformer (12.10); Shots of Edinburgh Zoo (12.12) General views of the Palace of Holyroodhouse (13.15); Edinburgh castle (13.50); View of Mons Meg cannon (14.10); Panoramic view of Edinburgh (14.14); One o'clock gun salute (15.08); General shots of Prestwick airport (15.12); The End (15.33).