PATHE SUPER SOUND GAZETTE No 38/17, PICK-A-BACK PLANE DEMONSTRATION FLIGHT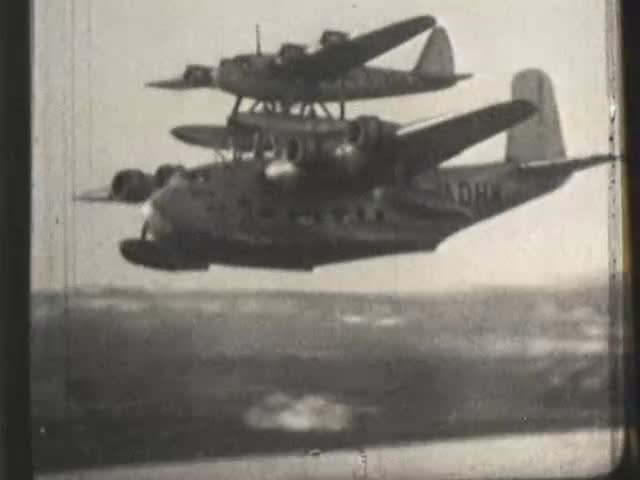 This video is not available to view remotely
Full length video - onsite only
Please read Understanding catalogue records for help interpreting this information and Using footage for more information about accessing this film.
Title: PATHE SUPER SOUND GAZETTE No 38/17, PICK-A-BACK PLANE DEMONSTRATION FLIGHT
Reference number: 1893
Date: 1938, February 28
Production company: Pathe Gazette
Sound: silent
Original format: 9.5mm
Colour: bw
Fiction: non-fiction
Running time: 1.07 mins
Description: Footage of a demonstration of the two aircraft in flight over the Firth of Tay. [The Mercury Maia aircraft flew from Dundee to Cape Town in 1937].
Credits: [cam. Taylor]
Shotlist: [shotlist retimed from speed corrected tape, manual control track]

[No opening credits] Brief shot of submarine being attacked/firing deck gun (0.06) Title. Shots of Mercury/Maia (one being carried on the back of the other) in the Firth of Tay (0.14) Shots of take-off, separation of the two aircraft in the air. Shot of Mercury flying solo and then Maia flying solo (0.58) [out of focus shot of car and young boy (1.08)