VILLAGE VARIETIES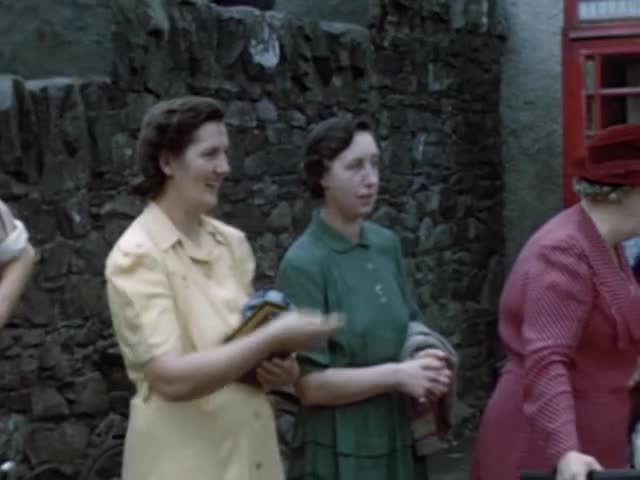 This video is not available to view remotely
Full length video - onsite only
Please read Understanding catalogue records for help interpreting this information and Using footage for more information about accessing this film.
Title: VILLAGE VARIETIES
Reference number: 1879
Date: 1949 - 1953
Director: filmed by W.E. Richardson
Sound: silent
Original format: 16mm
Colour: bwcol
Fiction: non-fiction
Running time: 36.04 mins
Description: A Compilation of local events in the Borders town of Moniaive including school sports, Remembrance day, a Sunday school outing, sheep dog trials, a bowling competition and the show day parade.
Credits: Richardson's Roving Camera presents LOCAL EVENTS IN MONIAIVE during 1949
Shotlist: Credits. [B&W] Local events in Moniaive during 1949. Shots of children's trip to Troon (0.16) [COL] Shots of the children and parents as they leave on bus trip (1.01); School sports. Various shots of children's races, high jump, shots of the winners; trio of girls sing to a microphone (2.14); A day of remembrance. (2.19) [B&W] Various shots of remembrance parade, pipe bands, Scouts, etc. (3.42); Sunday school outing (3.46) [COL] Shots of children's day outing as they leave on a "Black's" bus, shots of races, playing on swings and a seesaw (5.12); Shots of signpost and sign for a Gymkhana (5.20); Shots of parade including pipe bands marching, children in fancy dress, close-ups of children (7.24); [B&W] Shots of horse jumping competition and spectators (8.31); Moniaive sheep dog trials. Views of the sheep dog trials and close-up of crowds (10.48); Bowling competition; man playing up for the camera (11.12); Football match [FUSI? cup final], Moniaive versus Closeburn, final result Moniaive 3 Closeburn 0 (13.50); Shots of Brownies marching along a country road (14.51); General views of Moniaive children's Sunday School picnic sports day with races, egg and spoon race, sack race, etc (17.16); Moniaive tennis courts opening ceremony. Shots of same (17.56); Prize-giving day, Moniaive 1950. Various shots of children being awarded prizes in hall [possibly Sunday School prize-giving in church hall?] (20.10); [COL] Various shots of cattle show. Shots of floats in tableaux parade illustrating "Scotland in song and story" (22.51); Shot of tree planting ceremony to commemorate the coronation of Queen Elizabeth in 1953, [colour faded] shots of street decorations and pipe bands, floats, firework displays and bonfire (24.49); Shots of sports day and children's races (24.52); Sheep dog trials and spectators (26.22) [B&W] Five-a-side football competition June 3 1950, shots of side stalls, crowds, cattle display, children's games. etc. (30.07); Moniaive show day parade. Parade through streets, pipe band, children's fancy dress parade (32.43); Flower show (32.59); Show jumping competition and spectators Betty Baird rides the winner - and the 2nd and the 3rd. picture Betty Baird receiving prizes riding one horse and leading two others. and everybody's HAPPY gvs spectating crowds in the rain (36.01)