RURAL ROUND ABOUT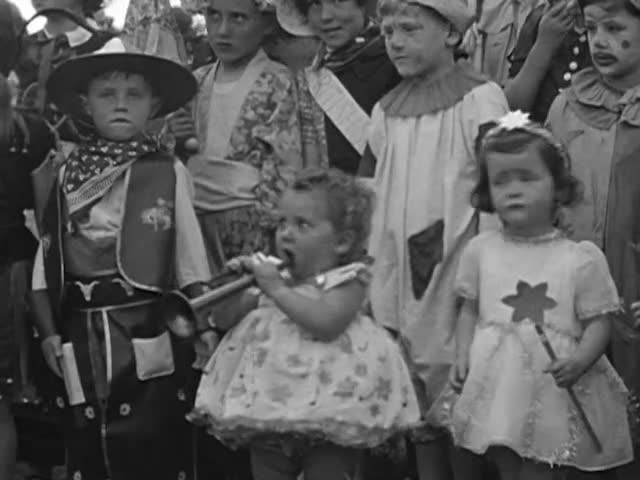 This video is not available to view remotely
Gala Day in New Galloway - a fancy dress parade, prizes are handed out, then off to the sports field for Highland dancing and horse and bicycle races. (clip - onsite only)
Please read Understanding catalogue records for help interpreting this information and Using footage for more information about accessing this film.
Title: RURAL ROUND ABOUT
Reference number: 1872
Date: 1950
Director: filmed by W.E. Richardson
Sound: silent
Original format: 16mm
Colour: bw
Fiction: non-fiction
Running time: 11.09 mins
Description: An amateur compilation of Kircudbrightshire events held in 1950: Dalry annual Grand Collie Dog Trials, a bowling match and the New Galloway Gala.
Shotlist: Title. (0.08) Richardson's roving camera captures a few local highlights of the year (0.14); Shot of poster advertising the Dalry Annual Grand Collie Dog Trials (0.21); Street scenes in Dalry showing the local activity (0.52); Shots of men waiting with dogs; more arriving (1.07) ints. men seated at table, drinking tea; pan over table men eating at a table piled with sandwiches (1.18) Fingland - and his dog (1.23) gv same; ms aproned women serving steak pie (1.35); ls group of boys on bicycles watching the trials; gvs man and dog competing, ms judging tent (2.00) Shots of the trials including shots of crowd, and individual children watching the competition (3.37) some of the winners (3.39) ls winning group (3.44); street scene, looking up a slope (3.55) over the hill and home (3.58) ls house (4.02) New Galloway Gala Day Damp but not Dismal (4.11) c/u New Galloway sign; ms man holding up Gala Day poster (4.21) pan over children in fancy dress; c/u young woman with parasol, wearing sign "Our Weather" (4.42) c/u girl playing pipes, ls mixed band, and crowds watching (4.54) shots of parade led by pipe band, then fancy dress and floats, which include advertisement for the Burnbank tearooms, "Sabbath Morn", and a man on horseback, dressed as an Arab; crowds follow behind, including c/u children (6.09) gvs crowds on the main street; c/u woman leaning out of an open window (6.36) ls pipe band led by old man in fancy dress (? sunglasses, top hat and tails, no trousers) (6.43) c/u winners of fancy dress prizes; c/u man, winner of third prize in adult competition; winning floats received (7.38) shots of mounted fancy dress (7.48) brief shots crowds (8.03) ls kilted girls carry swords to a platform; ls Highland dancing competition, c/u front line of the crowd, sitting with small babies and children (8.25) judges seated on platform; brief shots horse jumping competition, ms young people on horseback are awarded ribbons (8.42); shots of foot race, horse race and cycle race (9.27) The Provost has a word to say (9.31) c/u Provost speaking to the crowd using a microphone (9.58); Bowling, Dalry versus Moniaive (10.02) shots of the match, c/u's individuals watching play. The End. (11.09)