PROGRESS OF A DUNDEE JUTE MILL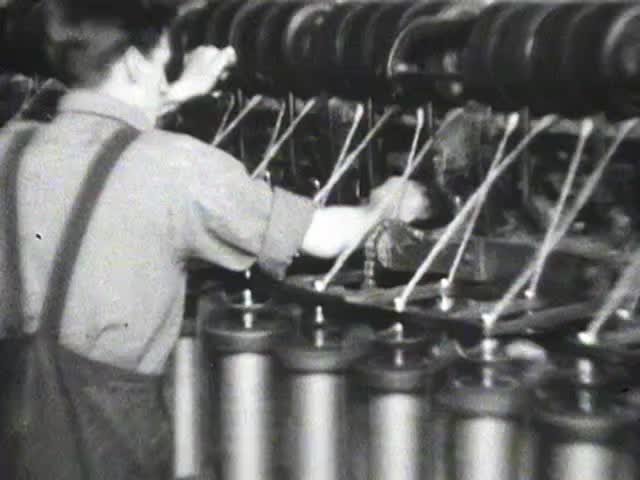 This video is not available to view remotely
Video 1

(currently displayed video)

Full length video - full length available onsite

People working in the jute mill, hooter sounds and they run home or to the canteen for dinner. After 1 hour break they return to work, the weekly wages arrive in envelopes. Pay slip shows £5.15s.1d (£5.75) (clip)
Please read Understanding catalogue records for help interpreting this information and Using footage for more information about accessing this film.
Title: PROGRESS OF A DUNDEE JUTE MILL
Reference number: 1860
Date: 1950
Director: filmed by J.R.L. Halley, Director, Wm. Halley & Sons
Sound: silent
Original format: 16mm
Colour: bw
Fiction: non-fiction
Running time: 11.20 mins
Description: An illustration of the historical development of William Halley & Sons Limited, jute manufacturers.

See also ref. 0185
Credits: Thanks are due to Wm Webster & Co Arbroath for permission to use shots of their 1939 beam engine, also built by Carmichael of Dundee, and still running in 1950.
Shotlist: WHS logo, title and caption with historical information (.46); General views of old flax weaving shed in Dundee and weavers' housing alongside (1.32); 1832 New mill for power spinning. General views exterior (1.50); Shots of Webster's beam engine in operation. General views raw jute being cleaned (2.44); Exterior premises of William Halley & Sons (3.20); Shots jute spinning and weaving equipment (5.01); Equipment lying idle during slump of 1939. General views of workers at machines (5.44); Lorries carrying bales of jute in Dundee streets (5.53); 1946. Brief shot of demolition of old sheds. Shots of workers on construction site of new factory [Wallace Craigie Works]. Mixing concrete. Building frame of new factory. Unpacking the new jute processing machinery (8.40); New machines in operation (9.15); Lunch hour. Workforce leave factory and enter Wallace Craigie Works' canteen. Shots inside of workers at food counter (9.47); Gv's workers at machines. Wages being handed out from pay clerk with tray of pay packets. General views of workers (10.01); Foremen's Council meeting (10.28); Personnel department (10.36); Exterior of Halley's works (10.49); Family portraits down the generations, ending with a shot of JRL Halley at desk (11.04); To be continued! The End (11.20).