BERTRAMS LTD.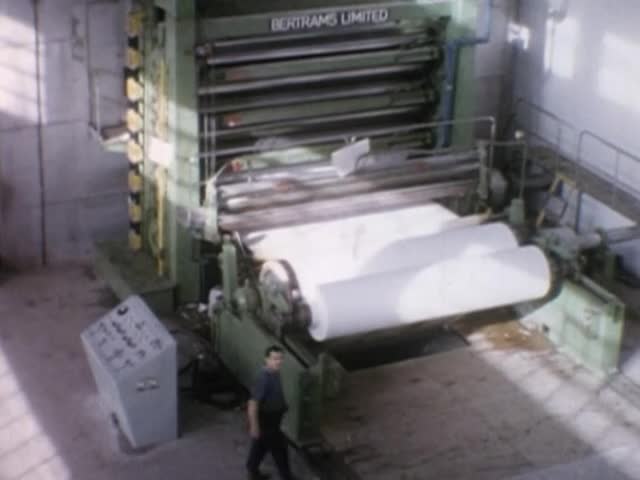 This video is not available to view remotely
Full length video - onsite only
Please read Understanding catalogue records for help interpreting this information and Using footage for more information about accessing this film.
Title: BERTRAMS LTD.
Reference number: 1788
Date: 1960s
Sound: silent
Original format: std. 8mm
Colour: col
Fiction: non-fiction
Running time: 11.56 mins
Description: Machinery at work in Bertrams Ltd, papermaking machinery engineers of Edinburgh.
Shotlist: [Please note shotlisted from VHS copy, times converted from 25 fps]

No credits. Shot of name plate on the premises of Messrs Bertrams Ltd, papermaking machinery engineers, of Sciennes, Edinburgh; Main Entrance to St. Katherines's Works (0.17) General views of the interior of the premises; man operating a small platform?, occasional shots of a small boy using controls (6.00) c/u Bertram's Ltd name plate; ints. Sciennes factory, very large boxed in machine, with a large roller loaded with paper (6.36) c/u sheets of paper being converted to pulp; (7.36) Several close-ups of specific machines (12.11) man adjusting a control panel; he then adjusts the machine in operation (12.47) elevated pans over machinery on factory floor (13.30) changing the roller for an empty one [production is not stopped]; waste paper from the operation is pushed through a trap door (14.27) paper waste is pulped; full rolls are stacked together; gvs paper rolling through the machine (16.29) c/u nameplate (16.34)