RIVER IS SPANNED, the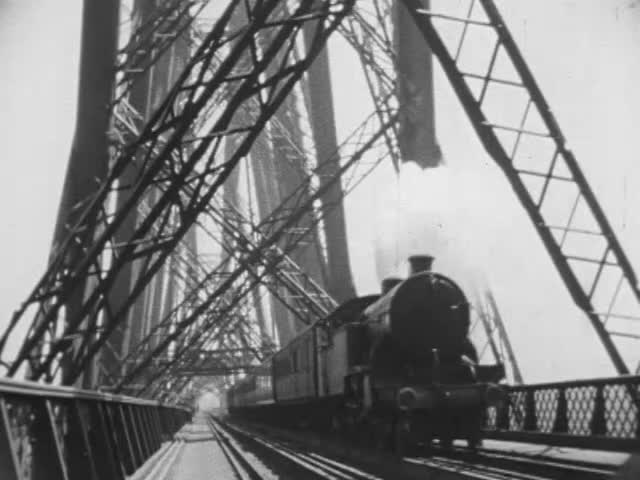 This video is not available to view remotely
Full length video - onsite only
Please read Understanding catalogue records for help interpreting this information and Using footage for more information about accessing this film.
Title: RIVER IS SPANNED, the
Reference number: 1762
Date: 1950
Director: filmed by Harry Birrell
Sound: sound
Original format: 16mm
Colour: bw
Fiction: non-fiction
Running time: 10.18 mins
Description: A reconstruction of the building of the Forth railway bridge using contemporary footage and stills.

The film was a prize winner at the Scottish Amateur Film Festival, 1950
Credits: Harry Birrell presents William Kelly and Robert Kerr
m. George Melachrino
This film could not have been made without the co-operation of Mr John Dunlop of the Mitchell Library Glasgow for supplying historical information; Mr H M Hunter, Public Relations Officer, British Railways, who granted permission to film on the Forth Bridge.
Shotlist: Credits (1.04) This film depicts the construction of the famous Railway Bridge over the River Forth during the years 1883-1890 (1.16) gvs Forth Bridge (1.46) shots of steam train crossing the bridge (2.21) shots of ships passing underneath the bridge and shot of the bridge itself (3.45) William Arrol & Co Ltd. gvs architects designing bridge (4.00) shots of stills of construction of the bridge at Queensferry (4.07) shots of men repairing bridge (4.10) shots of stills of construction of bridge (5.45) gvs men repairing bridge (6.44) contemporary shots of bridge and stills of bridge under construction (7.35) gvs men repairing bridge (7.44) stills of completed bridge (8.55) shots of the finished bridge (9.25) shots of steam train crossing bridge (10.05) ferry passing under the bridge (10.15) gvs Forth Bridge (10.31) The End (10.43)