PROCESSION IN COMMEMORATION OF CALTON WEAVERS/ROBERT SMILLIE CENTENARY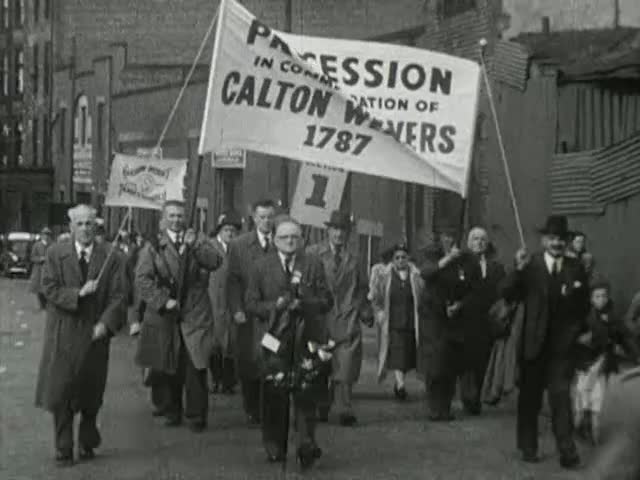 This video is not available to view remotely
Full length video - onsite only
Please read Understanding catalogue records for help interpreting this information and Using footage for more information about accessing this film.
Title: PROCESSION IN COMMEMORATION OF CALTON WEAVERS/ROBERT SMILLIE CENTENARY
Reference number: 1723
Date: 1957
Director: filmed by the Dawn Cine Group
Sound: silent
Original format: 16mm
Colour: bw
Fiction: non-fiction
Running time: 9.23 mins
Description: Glasgow Trades Council commemorate the martyrdom of the Calton weavers and lay a plaque in the Calton graveyard. Robert Smille founding member of the Scottish Labour Party has a park opened in his honour.
Shotlist: Credits and caption giving historical background to the 1787 Calton Weavers (.19); Brief shots in Drygate, Barrack Street area of Glasgow (.32); Glasgow Trades Council commemorate their martyrdom by a parade through the streets of the city. Shots of parade down High Street. (1.00); The martyred weavers were buried in the Calton graveyard. General views of the parade entering graveyard (1.12); Shot of the inscription on weavers' tombstone (1.34); The Chairman of the Glasgow Trades Council opens the ceremony. Shot of speech, crowds, etc (1.55); The Lord Provost Andrew Hood speaks in his official capacity. General views of speech and crowds (2.15); Wreath is laid at new memorial tablet. Shots of crowds (2.54); The End (2.55); - Blank - (3.03); ROBERT SMILLIE CENTENARY DEMONSTRATION. Saturday June 8 1957. Bob Smillie was born in Belfast on 17 March 1857. Lived for most of his life in Larkhall. Long shot down street to Larkhall. Medium shots of streets and close-up of house at No 29 Miller Street with Smillie on name plate (4.05); 1883. Founder member of the Scottish Labour Party. 1893. Founder member of the ILP. 1912 was elected in October as President of the Miners' Federation (4.11); Shots of surface buildings at coal mine (4.32); 1923 to 1929. MP for Morpeth, Northumberland. He died at Larkhall on 16 February 1940. On June 8, 1957, a Memorial Park was named for him. Shot archway at entrance to park (4.56); Tribute is paid to his memory by marching through the streets of his home town. General views parade in streets and entering park (5.33); John Ewing, Chairman of District Council, opens the park. Shot of Ewing cutting ribbon and general views parade and speakers (6.19); Tom Fraser, MP, introduces the speakers. Shot at mic (6.31); Arthur Horner. Shot same (6.40); Emmanuel Shinwell, MP. Shot same. Platform party and crowds (7.16); Alex Moffat. Same (7.30); Nitshill, Pollock [Pollok] and Larkhall Socialist Sunday Schools. Display of dancing (7.47); The children sing his favourite songs and personify his memory (8.10); Shotts Musical Association. Singers and band (8.44); A vote of thanks from Abe Moffat. Shot same. Crown (9.17); Park entrance. Gate with lettering Robert Smillie Memorial Park (9.22); The End (9.23)