GLASGOW MAY DAY 1937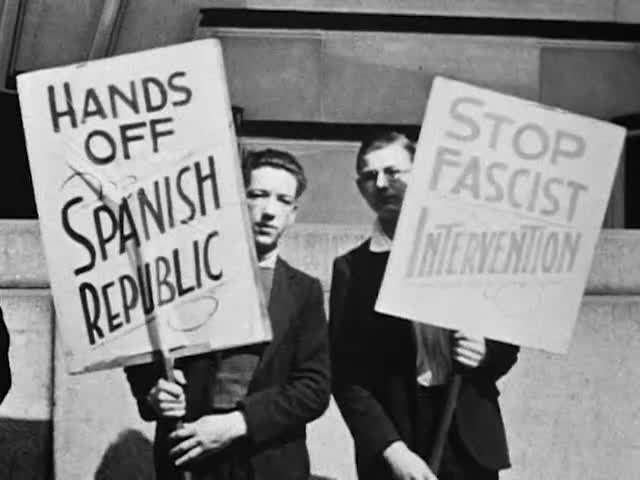 This video is not available to view remotely
Video 1

(currently displayed video)

Full length video - full length available onsite

Glasgow May Day Procession along Argyle Street, including a banner for "fallen comrades" in Spanish Civil War. Various shots of the entrance to Panopticon Cinema in background behind crowds. (clip)
Please read Understanding catalogue records for help interpreting this information and Using footage for more information about accessing this film.
Title: GLASGOW MAY DAY 1937
Reference number: 1722
Date: 1937
Director: filmed by Glasgow Clarion Club Film Society
Sound: silent
Original format: 16mm
Colour: bw
Fiction: non-fiction
Running time: 15.00 mins
Description: Promotional film for the Clarion Film Society. Members are involved in the Glasgow May Day procession, filming the march for "fallen comrades" in the Spanish Civil War.
Shotlist: No credits. Join the Clarion Film Society. Glasgow May Day. Exterior of the La Scala Cinema in Sauchiehall Street. Members of the Clarion Club leaving rooms at 144 Wellington Street, erecting banner and assembling for parade. March down road, past Queen Street station into George Square. George Square. Shots of procession gathering. Banner for "fallen comrades" in Spain. The procession. General views of parade along Argyle Street. Various shots of the entrance to Panopticon Cinema in background behind crowds. Brief shot of horse which has fallen whilst pulling a float. General views decorated floats, banners, crowds and participants. Glasgow Green. Shots of crowd milling about. General views of speakers, including Peter Kerrigan, James Maxton. British Esperanto League stand. Join the Glasgow Clarion Film Society (11.00)