LIFE SAVING BANK, the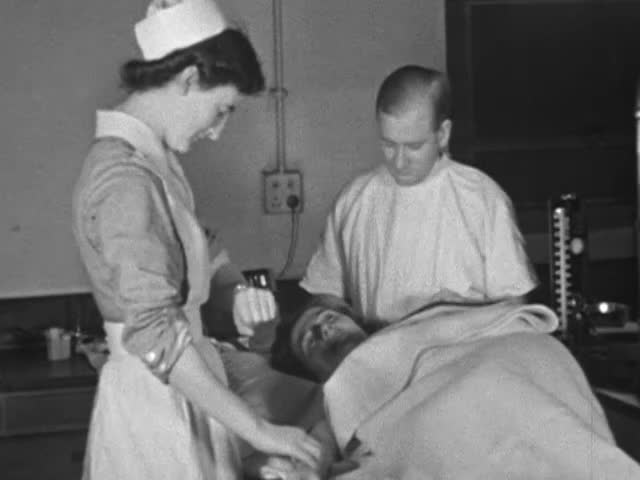 This video is not available to view remotely
Full length video - onsite only
Please read Understanding catalogue records for help interpreting this information and Using footage for more information about accessing this film.
Title: LIFE SAVING BANK, the
Reference number: 1703
Date: 1941
Production company: Glasgow Scientific Film Society Experimental Group
Sound: silent
Original format: 16mm
Colour: bwcol
Fiction: non-fiction
Running time: 17.04 mins
Description: Film promoting voluntary blood donation at the Blood Transfusion Service in Glasgow, with detailed documentary of procedures used to prepare equipment for taking blood, provide blood supplies and transfusions.

Cataloguer's comment: In-depth documentary following the process of the blood transfusion service. Good example of old fashioned labs and medical utensils.
Credits: ph. Frank. M. Marshall
[The technical details of administration and withdrawal were supervised by Dr. G. G. Browning and staff at the Western Infirmary, Glasgow.
Thanks to Professor James P. Todd of the Central Depot & his assistants]
Shotlist: G.F.S.S. crest. Title and opening credits (0.21) people opening envelopes; c/u letter from Blood Transfusion Service, held at Victoria Infirmary, Wednesday 14th January at 3.30 p.m. Behind all these letters stands the organization of the Blood Transfusion Service (1.17) woman in office uses card index; c/u letter being typed on typewriter (1.52) The Blood Bank controls the collection, storage and distribution of blood, and also prepares necessary apparatus with the greatest of care (2.02) Administration sets being assembled in lab; c/u labelled demonstration set; steam sterilisation (3.58) preparation and cleaning of bottles and associated parts (5.08) Solutions must be prepared under very carefully controlled conditions bottle of distilled water containing charcoal to adsorb pyrogens; Sodium Citrate is added to the solution; Sodium citrate is dissolved in carbonised water Carbon is removed by filtration; Anticoagulant solution is added to blood flasks before sterilisation (7.17) Ambulance loaded with transfusion material (7.33) Blood Donors blood donor hands over a card which is checked against and index; she gives blood; blood is checked for type and tested for haemoglobin content (8.32) [COL] haemoglobin content is estimated by comparing a sample to a standard tube (9.01) [BW] Blood pressure taken; c/u mercury column (9.15) Blood Withdrawal Set (9.37) Blood withdrawal (10.14) refrigerator containing blood bottles; masked technicians separating blood; plasma is filtered (12.01) Newspaper article; Blood Bank Saves Sailors (12.13) dry plasma is prepared for use by adding distilled water (13.13) Blood waits ready for dispatch in large cases; c/u label H.M.S. "Malaya" c/o G.P.O. London; packing bottles of blood; (13.56) Transfusion is necessary to combat shock following loss of blood, other accidents or surgical operations. Testing for compatible blood types, by mixing blood samples (14.53) [COL] c/u test (15.09) [B&W] transfusion being prepared and being made; donor receives a letter with news of how her blood is being used ecs (17.04) THE END (17.11)