UNDAUNTED: THE TREFOIL SCHOOL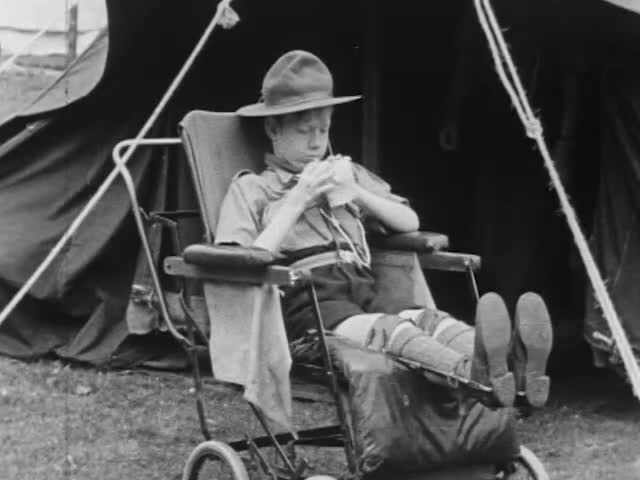 This video is not available to view remotely
Full length video - onsite only
Please read Understanding catalogue records for help interpreting this information and Using footage for more information about accessing this film.
Title: UNDAUNTED: THE TREFOIL SCHOOL
Reference number: 1673
Date: 1947
Sponsor: The Trefoil School
Production company: Campbell Harper Films Ltd.
Sound: silent
Original format: 16mm
Colour: bw
Fiction: non-fiction
Running time: 16.28 mins
Description: The work of the Trefoil School for children with disabilities, with shots of children at summer camp, at meal time, learning crafts and playing various sports. An up-dated version of this film was made in 1956 [see ref. 1674].
Credits: Produced by the Committee
Shotlist: REEL 1

Credits (0.1); This School for physically handicapped children, is the outcome of work undertaken by members of the Girl Guides Association during the war, under the Evacuation Scheme. The film is presented to interest and inform all who are in sympathy with the welfare and education of the cripple child. This production is concurrent with a general appeal for donations to purchase, adapt and equip "Kirklands", at Hermiston, Midlothian as the permanent home of the Trefoil School. (0.47). Shot of emblem - trefoil, and motto - undaunted (0.52). Shots of children in scout and guide uniform looking at photographs of camping (1.22). Shots of children at summer camp (3.32); Shots of Red Cross Ambulance helping children with shopping (4.16); shots of girls following nature trail through woods (5.24); Exterior shots of van bringing children to school, the children getting out and going into the school (6.12). Interior shots of the dormitory and children dressing, making beds and playing (7.19); shots of children laying the table, coming down the stairs, sitting at table and saying grace (8.28).

REEL 2

Interior shots of the school and the children coming into the hall and studying their lessons including working with wildlife, animals, plants, and learning basket weaving and other handicrafts (4.20). Exterior shots of the school and children coming out to play; Playing football, handball, playing in the sandpit (5.43); shots of children gardening (6.20); shots of boy sitting on window-ledge with book and talking to girl (6.31); Interior shots of children in the common-room; reading books etc (7.01); Exterior shots of the school buildings (7.13); shots of the children going into school (7.38); shots of the school motto - 'Undaunted' (7.52)The End (8.00).