PROMINENT PAISLEY WEDDING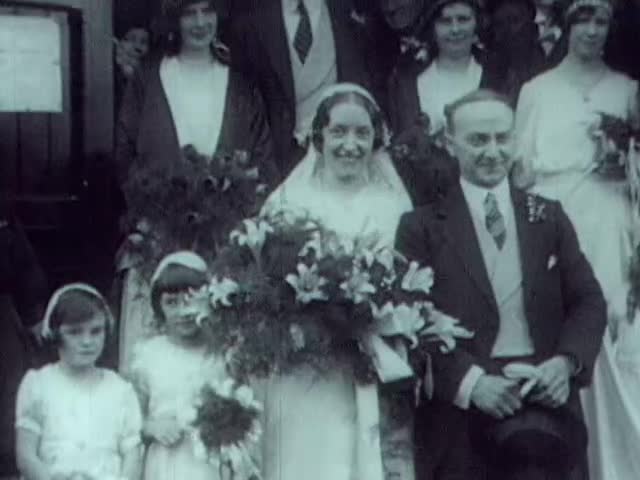 This video is not available to view remotely
Full length video - onsite only
Please read Understanding catalogue records for help interpreting this information and Using footage for more information about accessing this film.
Title: PROMINENT PAISLEY WEDDING
Reference number: 1661
Date: 1932, February
Sponsor: [attrib West End Cinema Paisley]
Sound: silent
Original format: 35mm
Colour: bw
Fiction: non-fiction
Running time: 4.08 mins
Description: Wedding at Martyr's Church, Paisley, of Mary McGeorge (daughter Baillie McGeorge) to Daniel Sinclair, in Febuary 1932.

See press cutting.
Credits: [Local topical. Shown in Paisley's West End Cinema a few days after filming]
Shotlist: Credits. Wedding at Martyr's Church, Paisley. Miss Mary McGeorge (daughter of Baillie and Mrs McGeorge) to D[aniel] Sinclair, Esq. Vast crowds of spectators overwhelming with excitement make a rush for the church. (.15); Spectators hurrying along pathway, nearly all of them ladies. Troupe of Girl Guides follow (1.54); The arrival of Baillie Glover (ex-Provost of Paisley) followed by bridesmaids and train-bearers. Shot of Baillie and Mrs Glover and the bridesmaids. Girl Guides line the path (2.26); The arrival of the bride accompanied by her father. The bride and her father enter the church (2.48); The now Mr & Mrs D Sinclair, the happy couple, leaving after the ceremony. Shots of the bride and groom [20 years older] on the steps of the church. They pose for the camera (4.08); Incomplete.