DUNFERMLINE CHILDREN'S GALA 1953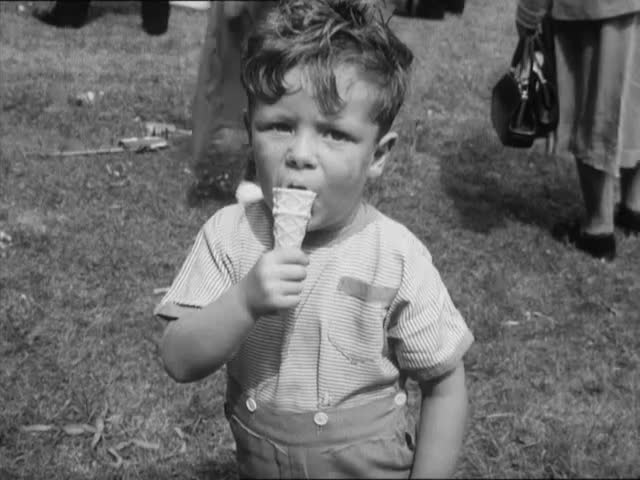 This video is not available to view remotely
Full length video - onsite only
Please read Understanding catalogue records for help interpreting this information and Using footage for more information about accessing this film.
Title: DUNFERMLINE CHILDREN'S GALA 1953
Reference number: 1646
Date: 1953
Director: [filmed by James S. Nairn ]
Sponsor: [ Regal Picture House Dunfermline]
Sound: silent
Original format: 35mm
Colour: bw
Fiction: non-fiction
Running time: 17.00 mins
Description: Film of Dunfermline Week 1953 showing people celebrating Elizabeth II's coronation through the 50th Dunfermline Children's Gala. Representatives of schools and bands playing along the march route, then enjoying races and games in Pittencrieff Park.
Shotlist: REEL 1

Credits (0.20); Women looking at commemorative magazine titled: "Dunfermline Week 1953", for Elizabeth II's coronation (0.38); Shot of Alexander's buses en route (0.47); Crowds lining the streets (1.17); Exterior of Regal Cinema, Dunfermline, showing James Mason in BOTANY BAY (1.23); Shots of crowds (1.36); Shot of the procession with infants from Commercial School (2.04); Shot of Regal Cinema panning round to the procession (2.22); Waving crowds (2.32); Shots of military band followed by procession (3.19); Crowd shots and pipe band (3.49); Dunfermline Town Hall (4.00); Shot of children in the crowd and shot of a chemist's shop (4.11); Crowds waiting for the procession to pass by (4.27); Exterior of a shop (4.35); Brass band; Queen Anne High School (4.52); Shots of representatives from various schools, including: Milesmark School (5.04); McLean School (5.19); Blacklaw School (5.36); Wellwood School (5.41); Rosyth King's Road School and St. John School and Columba's School, Rosyth (6.37); Town Hill Public School (6.50); Limekilns School (7.06); Crossford and Cairneyhill School (7.12); Halbeath School (7.26); Canmore School (7.35); Commercial School, led by a female pipe band (7.42); St Margaret's RC School (8.03); Park Road School, Rosyth (8.26); Pittencrieff School (8.33); Shots as crowds follow the procession (9.40).

REEL 2

Dunfermline Children's Gala 1953 (0.05); Shots as woman irons dress ready for the parade (0.27); Crowd shots in Dunfermline Park (0.55); Shots of brass band (1.06); Small girl and boy eating ice-cream (1.19); Brass band and on-lookers (1.55); Picnic (2.03); Shots of female Highland band (2.18); Crowd shots (2.43); The female Highland band marching (2.56); Children playing and enjoying a picnic (3.51); Sack race (4.08); Races and games (4.51); small children playing Ring a Ring of Roses; Group of boys and girls waving and eating (5.11); Crown shots and pipe band (5.48); Children playing (6.03); Rosyth King's Road School banner (6.14); Shots of crowds walking (6.29); Shots of a church in Dunfermline (6.33); Shots of the Town Hall at night, lit up to celebrate the coronation (7.04); Shots of the Regal Picture House at night (7.17); The End (7.20)