HAWICK COMMON RIDING 1953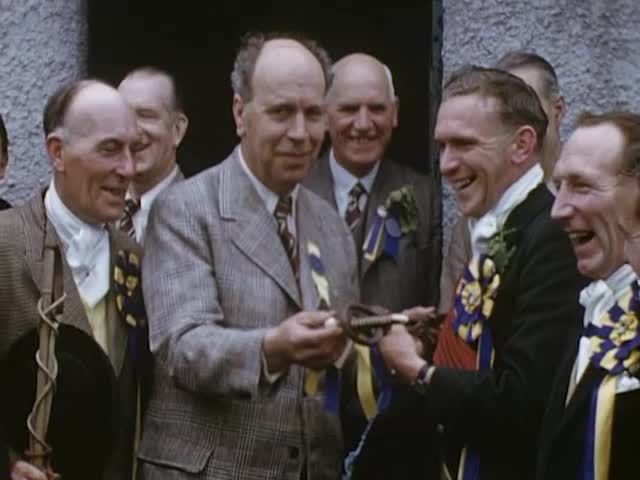 This video is not available to view remotely
Video 1

(currently displayed video)

Full length video - full length available onsite

Parade with fife and drum band; people make their merry way to the Town Hall Cornet and his entourage stand on balcony. Cornet is held shoulder high by his entourage and carried down street, to much cheering and celebration. (clip)
Please read Understanding catalogue records for help interpreting this information and Using footage for more information about accessing this film.
Title: HAWICK COMMON RIDING 1953
Reference number: 1644
Date: 1953
Production company: Campbell Harper Films Ltd.
Sound: silent
Original format: 16mm
Colour: col
Fiction: non-fiction
Running time: 6.30 mins
Description: Footage of Hawick Common Riding in the Borders including the procession through the streets, the Cornet on horseback, the flagbearer receiving the sword and the Cornet and others being carried shoulder high through the streets of Hawick. [Shot on Kodachrome].

Originally titled (HAWICK COMMON RIDING CIRCA 1952) but amended February 2009 in light of new information supplied by M. Crosby. See shotlist for further details of people and their roles.
Shotlist: [no title] brass band make their way through crowds on main street, Hawick. Cornet busses the flag of "The Horse" statue, tying blue and gold ribbons to its flagstaff. Three cheers are raised. exts Tower Hotel with a large group of men singing in a group on front steps (1.29) street bedecked with bunting, gvs marching band. Horses march out and gvs parade (1.57) gvs open country roads and fields as men on horseback ride along (2.42) gvs racecourse, gvs the Finish Line and betting stalls. The flag is positioned by triumphant man (3.32) gvs crowded racecourse. The ribboned 'stirrup' (?) is presented to man (3.49) shot of riders crossing Finish Line (3.56) gvs crowds, including families enjoying picnic (3.56) horses cross over river, there is a mill visible in background (5.20) gvs Hawick streets. Parade with fife and drum band; people make their merry way to the Town Hall (5.42) Cornet and his entourage stand on balcony. There is a banner draped over reading 'Rally Roond Oor Cornet'. Three cheers are raised. Flag fly [Cornet is James Turnbull. Right Hand Man, Jackie Wright. Left Hand Man, George Aitkin. Acting Father (Acting Senior Magistrate), Tom Colledge. Front row Chap Landles, (Ex Cornet/ Ex Provost). Provost Fraser. Harry Storrie (Song Singer on the right). Second Row David Atkinson, James Henderson (Both future Provosts)] (6.02) four young women wave from a car to men standing on balcony [Lass, Mary Bowie. Right Hand Lass, Ella Crosier Left Hand Lass, Hellen Allan] (6.11) Cornet is held shoulder high by his entourage and carried down street, to much cheering and celebration [Adam Bouglas Carrying Cornet out of Town Hall. Rob Fraser Cornet 1956 carrying RHM with Alastair Marshall. Not sure who is carrying A/F with James Liethead. It looks a bit like ?? Wilson the Potato Merchant] (6.30)