GLASGOW STUDENT BETWEEN THE WARS 1919 - 39,the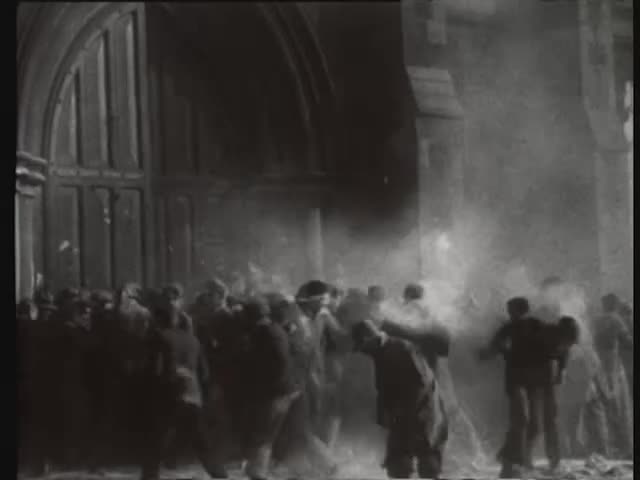 This video is not available to view remotely
General views Glasgow University Rectorial fight in Quad. Involving soot and pesemeal - but no eggs allowed this year! (clip - onsite only)
Please read Understanding catalogue records for help interpreting this information and Using footage for more information about accessing this film.
Title: GLASGOW STUDENT BETWEEN THE WARS 1919 - 39,the
Reference number: 1601
Date: 1919 - 1939
Sponsor: University of Glasgow for C. A. Oakley
Production company: Rank Film Studios
Sound: sound
Original format: 16mm
Colour: bw
Fiction: non-fiction
Running time: 16.20 mins
Description: Compilation of Glasgow University events during the inter-war period.

See also UNIVERSITY NEWS for additional and some duplicate material.
Credits: Additional sequences filmed by Stanley Russell and Douglas Gray.
At the piano, Douglas Steen
Shotlist: Credits. The Glasgow Student Between the Wars 1919-1939 (.31); Still of President Poincare wearing Rectorial garb (.42); Mr Bonar Law announces his policy at big meeting of his constituents (Pathe Super Gazette). [1921] Shots as Bonar Law leaves the City Chambers, Glasgow (1.03); Still Lord Birkenhead at Rectorial address, 1923 (1.25); 1923. Always merry and bright. Politics or rail strikes could not prevent students' great annual rag for charities (Pathe Super Gazette). General views decorated floats and students in fancy dress in Glasgow streets (2.08); Cover of first "Ygorra" magazine. Cover of "College Pudding" revues (2.29); 1925. Still pianist Paderowski (2.41); Sir Austen Chamberlain being installed Lord Rector of Glasgow University. All the students "took off" his monocle (Pathe Super Gazette). Sir Austen walks with University Principal Sir Donald Macalister (3.06); Group of university officials all wearing monocles, accompanying Sir Austen (3.20); Close-up female students with monocles (3.25); Sir Austen and university colleagues in new stand at Westerlands (3.34); Rugby match against Edinburgh University. Sir Austen meets the teams (3.45); 1926. Programme for Students Charities Day (3.56); Still of Miss D'Apenny arriving in Glasgow, 1927 (4.31); Charities Day floats procession (5.15); Stills. Students welcome American Big "Bull" Thompson (5.25); General views 1929 Charities Day procession and students in fancy dress. Lord Provost David Mason takes the march past (6.14); 1929. Rectorial fight in West Quad as students throw flour, eggs etc (7.19); Blank (7.31); Extract from cinema trailer for 1929 Students Charities Day (8.21); General views procession and students. Shots of Stanley Baldwin, Rector, and Lord Provost Thomas Kelly taking the march past, 1929 (8.53); Exterior and interior Memorial Chapel (9.24); Stills. Men's Union under construction. Film of union exterior (9.51); Still. Principal Sir Robert Rait with Rector Stanley Baldwin (9.57); [1931] No mercy given in Glasgow Students Annual Rectorial "soot and peasemeal" battle - but eggs were banned this year (Pathe Gazette). General views Rectorial fight in Quad (11.14); Still. Robert Rait with Rector Compton Mackenzie in 1931 (11.29); The Prince and Princess greatly beloved. Duke and Duchess of York receive honorary degree of Doctor of Law and spend busy day in Glasgow (Pathe Gazette). Shots of Duke and Duchess with Sir Donald Macalister, Chancellor of the University, and other officials and graduates (12.02); Duchess of York visits Mearnskirk Hospital (Pathe Gazette). General views visit accompanied by Lord Provost Thomas Kelly (12.51); A whole city makes whoopee. Glasgow cheerfully suffers annual "sack" by 5,000 "bandit" students in great Charities Rag (Pathe Gazette). General views of the 1933 students charities day, various activities (13.55); 1936. Sir Hector and Lady Hetherington, Principal of the University (14.10); General views of the 1937 students' charities day activities (14.50); Shots of the students' Rectorial fight in the West Quad (15.11); Still. Rector Sir Alec Sinclair (15.25); Shots of the Reading Room as students enter (15.44); 1939, stills. Students sandbag windows in the Quad (16.01); ecs (16.20)