WATER DISPLAYS AT THE EMPIRE EXHIBITION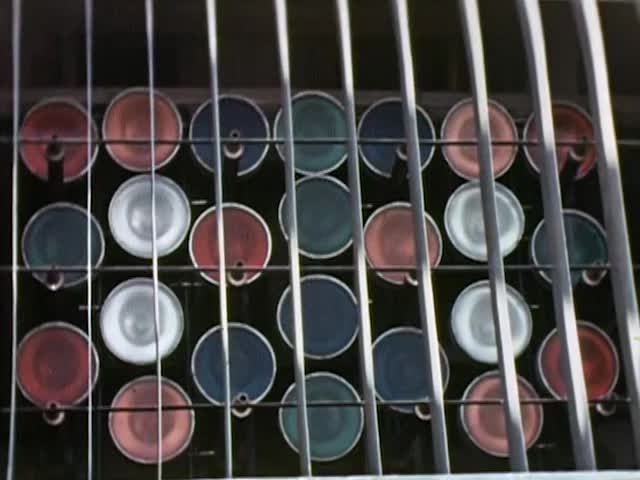 This video is not available to view remotely
Full length video - onsite only
Please read Understanding catalogue records for help interpreting this information and Using footage for more information about accessing this film.
Title: WATER DISPLAYS AT THE EMPIRE EXHIBITION
Reference number: 1490
Date: 1938
Sponsor: Crouch & Hogg MM Inst.
Production company: Jay's Film Service Ltd.
Sound: silent
Original format: 16mm
Colour: col
Fiction: non-fiction
Running time: 21.21 mins
Description: The water displays at the Empire Exhibition, Glasgow, are illustrated including the royal fountain, the lake fountain, south cascade and the 'an clachan'.

A technical record of one of the earliest displays of 'dancing waters' ever constructed.
Credits: This film has been specially produced for Crouch & Hogg, M.M. INST. C.E., Glasgow by Ronald L Jay (Jay's Film Service Ltd. - Glasgow)
Shotlist: [shotlisted from speed corrected tape, manual control track]

Credits and title (0.29); Shots of ground entrance, Bellahouston Park (0.51); Royal fountain and North Cascade Shots of fountain, close-up of jets and weirs; Tower and jets in foreground (2.52); Royal fountain display. General shots with tower in background. Display in front of the Scottish Pavilion (6.33); Royal fountain arrangement of jet pipes and flood lamps. Shots of water display, jets and close-ups of jets and lamps when the water is turned off (7.53); Royal fountain interior of pump house. General views of machinery, pumping gear, winding equipment, power units, etc. Includes dimmer controls (10.45); Royal fountain display (12.09); "Sea Foam" Group. Concert hall entrance. Shots of display with the concert hall in the background (12.49) The lake arrangement of jet pipes and flood lamps. Shots of the various installations exposed in low water (14.04); The lake interior of the pump house. Shots of the machinery (15.23); The lake fountain display. New Zealand pavilion in the background (17.53); South cascade. General views of the exhibition and the tower. Cascade in foreground (18.44); Fountain in forecourt of the Palace of Engineering. General views, long shots of ground, medium shots of fountain. Palace of Engineering in the background (19.34); An clachan. General views of the clachan area with shots of a "natural" stream (21.21)