CLYDESCOPE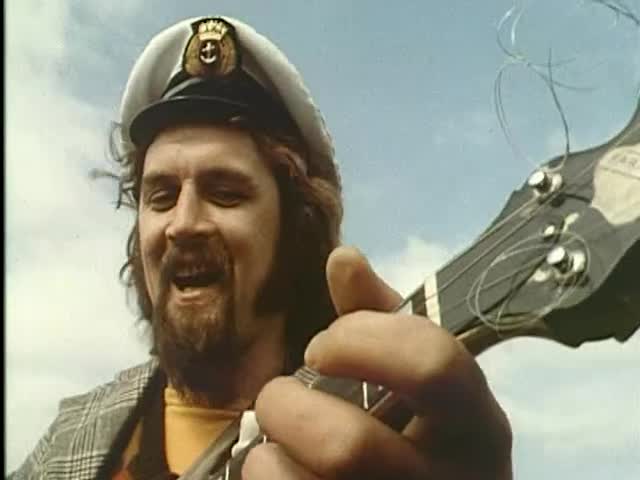 This video is not available to view remotely
Full length video - onsite only
Please read Understanding catalogue records for help interpreting this information and Using footage for more information about accessing this film.
Title: CLYDESCOPE
Reference number: 1481
Date: 1974
Director: d. Murray Grigor
Sponsor: Films of Scotland and the Clyde Tourist Association
Production company: Viz Ltd.
Sound: sound
Original format: 35mm
Colour: col
Fiction: non-fiction
Running time: 31.00 mins
Description: A panorama of the Clyde, from Biggar to Brodick, with Billy Connolly as guide.

This film won the Financial Times Award for Export and the Golden Sun (Lisbon).

Production file held.
Credits: featuring Billy Connolly [also featuring Ron Geesin, Bill Paterson, Christopher Higson and The Renfrew Burgh Band]
nar. Micheal MacLiammuir
visitors from the South Stephen and Liz Yardley
songs Billy Connolly
m. Ron Geesin
anim. John Patrick Byrne, Donald Holwill ph. David Peat
assistants Bert Eeles, Roland Kennedy
sd. and atmospheres Louis Kramer, Ron Geesin
ed. Patrick Higson
w. & d. Murray Grigor
produced for Films of Scotland and the Clyde Tourist Association
Shotlist: Part One
[Col] Pan across countryside at A74 near border with England (.43) Billy Connolly talking to English tourists by roadside (1.40) Animated title sequence (3.44) Range Rover car travelling along A74/M74 passing various places, including Hamilton mausoleum (4.48) Billy cycles through country roads towards Biggar (5.40) Int. shots of Gladstone Museum, Biggar (6.23) Museum display. Int. of the Metropolitan Photographic Art School in Biggar (6.38) Range Rover arrives in Moscow, Ayrshire (6.46) gvs River Clyde at New Lanark (7.25) Ext. of Pollok House, Glasgow of the River Clyde at New Lanark (7.25) Ext. of Pollok House, Glasgow (7.39) gvs of rowers on the Clyde at Glasgow Green (8.41) c/u of Glasgow's Coat-of-Arms (8.,56) c/u of weather vane at George Square and wide shot of Trinity Church towers (9.17) [bw] extract from archive film GLASGOW AND THE CLYDE COAST - trams on Sauchiehall Street and shots of the Central Station (9.41) [col] int. of Glasgow Airport (10.21) general shots of Range Rover and shots of an electric train (11.35) int. shot of Wemyss Bay railway station, present day and [b/w] past - shots from GLASGOW AND THE CLYDE COAST (12.18) [col] gvs of yachts sailing near Largs (14.18) [b/w] Rothesay Pier and shots of the pierrots, taken from GLASGOW AND THE CLYDE COAST, [shot of Billy Connolly and Ron Geesin] (15.20) [col] animated sequence (15.45) aerial view of Rothesay Pier (16.00) shots of men playing golf (16.46) aerial view of Arran (18.00) ext. of Newark Castle (18.23)

Part Two
[b/w] scenes from GLASGOW AND THE CLYDE COAST - Rothesay pier (.08) passengers boarding unidentified steamer (.20) [col] gvs of engine room on the "Waverley" (1.10) Billy Connolly singing on deck of the "Waverley" together with Ron Geesin on guitar, and aerial shots of the steamer (3.10) gvs of model paddle steamers (3.36) gvs of the "Waverley" (3.50) Billy at the Crocodile on Millport Bay (4.08) [b/w] shot of the Crocodile taken from GLASGOW AND THE CLYDE COAST (4.15) [col] ext. of the Glenburn Hotel and the Glendale Boarding House (4.41) Billy cycles on country roads and shots of Botanical Gardens (6.56) shots of the steamer "Maid of the Loch" from the Loch Lomond Bear Park (7.40) gvs of Bear Park. general shots of cyclists (9.12) aerial view of the "Waverley" (9.30) gvs of model ships on boating pond (10.20) gvs at a fairground (12.12) animated credits (12.40)