GRAMPIAN TELEVISION NEWS TAPE L0256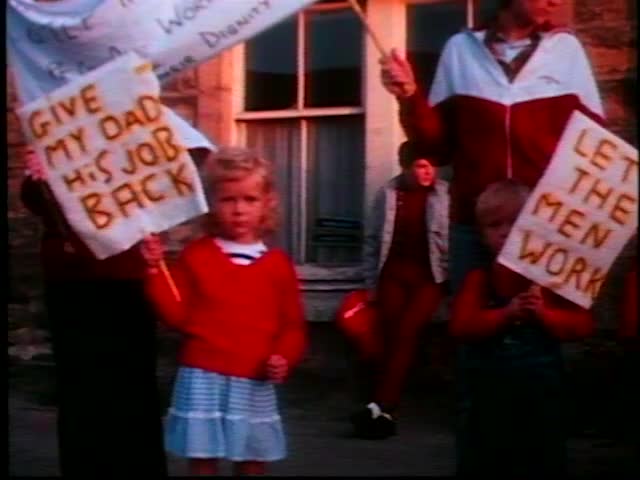 This video is not available to view remotely
Full length video - onsite only
Please read Understanding catalogue records for help interpreting this information and Using footage for more information about accessing this film.
Title: GRAMPIAN TELEVISION NEWS TAPE L0256
Reference number: 11500
Date: 1983
Production company: Grampian Television
Sound: sound
Original format: U-Matic (hi-band)
Colour: col
Fiction: non-fiction
Description: This is a compilation tape featuring news items from Grampian Television from the 1980s and is likely to include unedited material.

The original analogue videos have been digitised and can be viewed at Kelvin Hall by appointment. Viewing copies may display defects such as dropout, washed out colour and sound fluctuation.
Shotlist: 00:00:10 00:02:54 01/05/1983 GV"S STRATHMARTINE HOSPITAL DUNDEE.
00:02:58 00:06:53 01/05/1983 GV"S STRATHMARTINE UNIVERSITY BY-PASS ROAD.
00:06:57 00:21:54 01/05/1983 ULLAPOOL MACKEREL FISHING - UNLOADING, PATROL BOAT, UNLOADING FROM HIPS HOLD, GV"S OF BOATS ON LOCH (VERY GOOD).
00:22:01 00:23:44 01/05/1983 GV"S DUNDEE TENEMENT MURAL.
00:23:48 00:25:34 01/05/1983 GV"S ETC SNP CONFERENCE.
00:25:36 00:26:52 01/05/1983 PORTERFIELD PRISON, INVERNESS AND CAGES.
00:26:56 00:28:25 01/05/1983 GV"S ABERDEEN TAXI DRIVER MURDER - RECONSTRUCTION AT NIGHT.
00:28:30 00:33:32 01/05/1983 GV"S SCOTTS OAT MILL FACTORY, CUPAR, FIFE.
00:33:35 00:51:18 01/05/1983 GV"S HIGHLAND FABRICATION NIGG - PICKETS PREVENTING MEN GOING TO WORK, GV"S OF PROTESTORS - YARD ETC.
00:51:22 01:00:00 01/05/1983 PROFILE OF FATHER COLIN MACINNES (CRANN TARA).