VARIOUS ARTISTS c.1938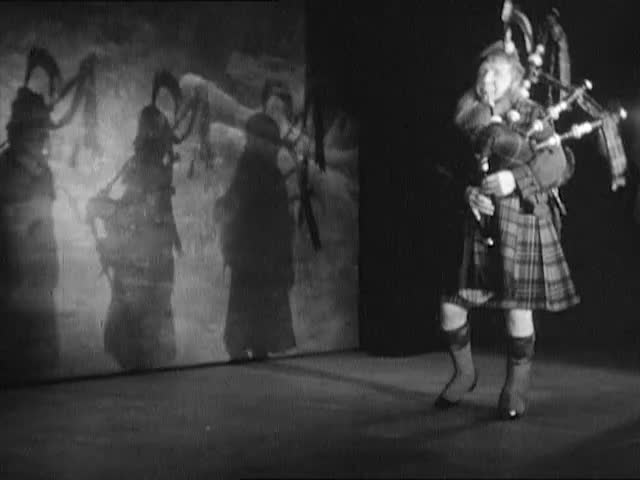 This video is not available to view remotely
Full length video - onsite only
Please read Understanding catalogue records for help interpreting this information and Using footage for more information about accessing this film.
Title: VARIOUS ARTISTS c.1938
Reference number: 1140
Date: 1937 / 1945*
Director: [filmed by friend of Harry Gordon]
Sound: silent
Original format: 16mm
Colour: bwcol
Fiction: non-fiction
Running time: 18.28 mins
Description: Scenes from various pantomimes and variety shows featuring Harry Gordon, Alec Finlay, Dave Willis, Florrie Ford, and Alec Lennox. Esme Marshall plays the Principal Boy. Filmed during dress rehearsal.

Research undertaken as part of the 'Pantomime in Scotland Project' at Glasgow University: https://www.gla.ac.uk/subjects/filmtelevision/projectsandnetworks/pantomimeinscotland/pantomimeonfilm/ [last accessed 15/12 2021]

See also Scottish Theatre Archive at Glasgow University: https://www.gla.ac.uk/myglasgow/library/files/special/collections/STA/index.html [last accessed 15/12/2021]
Shotlist: No credits. [B/W] General views of crowds at race course (0.21) horses racing around track [taken from stand] (0.46); Harry Gordon walks out onto street and waves happily to camera, pretending to be tipsy [from the Blythswood Bar?] (0.56); Alec Lennox, Harry Gordon's "foil", totters from same door and doffs hat to camera (1.01); Shots inside Pavilion? man with performing dogs act, including a monkey which rides on a harlequin's back (1.42); [Underexposed] acrobat act from pantomime (2.06); [Tinted] General views of promenade and beach at Nice. Mr & Mrs Harry Gordon and Alec Lennox relaxing (4.09); [Col] (Underexposed) Dance act from stage show, possibly Hubbard, Bird and LaRue's famous adagio act (6.15); [B/W] gvs same (7.53) More scenes from stage show (8.15); Exterior of the Alhambra Theatre, Glasgow. Box office entrance. Bill advertises "Puss in Boots" panto-mime 1937 with Harry Gordon. (8.54) ms 1938 mounted police control queues (9.09); More shots of man with performing dog act (10.03); General views of stage during scenes from "Puss in Boots" (10.20); Woman, possibly Florrie Ford, on stage, sketch with two comedians, Bert Denver and pianist (10.56); Alec Finlay during concert at Alhambra as Scots piper (11.44) Harry Lauder plays the kiltie, giving a small dance (12.11); Chorus line (12.22); Woman singer, possibly Esme Marshall? (12.41); Dave Willis in fireman sketch (12.58); General views of pantomime sketches including panto horse and other, also Harry Gordon. Bouncing ball routine. Audience song with reference to the Empire Exhibition. ["We're gaun go- gaun doon Bellahouston way...into the Exhibition in May..."] (17.09); Finale - Jessie Matthews and Sommie Hale on stage with musical director (?) (18.28).