INCIDENT AT LONGNIDDRY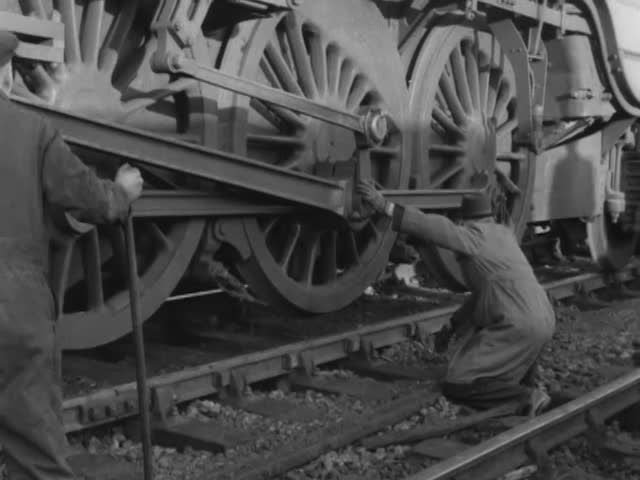 This video is not available to view remotely
Full length video - onsite only
Please read Understanding catalogue records for help interpreting this information and Using footage for more information about accessing this film.
Title: INCIDENT AT LONGNIDDRY
Reference number: 1108
Date: 1953
Sponsor: British Transport Commission
Production company: Campbell Harper Films Ltd.
Sound: mute
Original format: 35mm
Colour: bw
Fiction: non-fiction
Running time: 6.44 mins
Description: Re-railing a Pacific class locomotive after it had been completely detached and turned around. Two steam cranes take 47 minutes to re-rail the locomotive.
Credits: British Railways
Shotlist: Title (0.09); Re-railing a Pacific-type locomotive (0.11); Locomotive No 60530 became seriously derailed on December 17 1953. This locomotive was completely detached from its tender and it plunged over the station platform. When it came to rest, it had turned round completely and was lying on its right side at the bottom of an embankment more than 15 feet from the nearest rail. The locomotive without its tender weighs approximately 100 tons. The re-railment was effected by using two high capacity steam cranes, one 45 ton capacity crane from Eastfield and one 50 ton capacity crane from Motherwell. The following pictures show the sequence which took place in turning the locomotive on a prepared sleeper bed. Afterwards the locomotive was lifted from this point back onto the main line. All the work was carried out on Sunday morning, 20 December 1953. The inclusive time of operation in turning and re-railing the locomotive was 47 minutes (1.09); Various stills from the scene of the accident (1.50); Shots of the engine on its side with close-ups of the steel lines used to pull it up (2.43); (3.01) Time 10.18. the engine is gradually righted by two steam-powered cranes (4.13) Time 10.21. Close-ups of the cranes, and machinery used for re-railing (4.51) c/u crane operator; Time 10.47 (5.03); The engine is re-railed. Time 11.05. The men who pulled off the operation; The men pose around the engine (6.40); The End (6.44)