DAIRYLAND THEATRE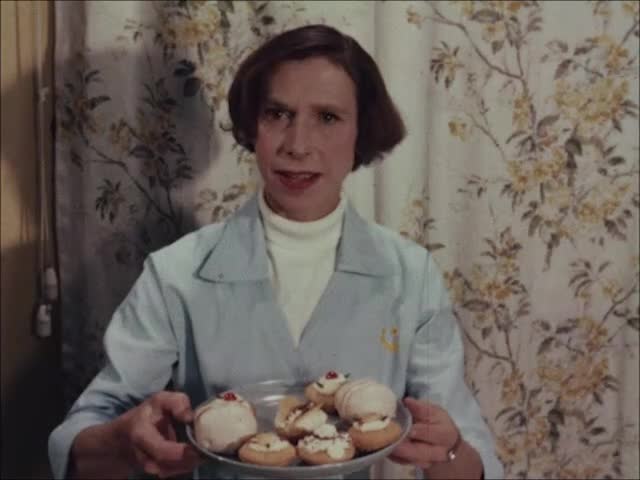 This video is not available to view remotely
Full length video - onsite only
Please read Understanding catalogue records for help interpreting this information and Using footage for more information about accessing this film.
Title: DAIRYLAND THEATRE
Reference number: 10933
Date: 1964*
Production company: W.S. Crawford Ltd.
Sound: sound
Original format: 16mm
Colour: col
Fiction: non-fiction
Running time: 19.33 mins
Description: A promotional film for Dairyland Theatre, a cookery demonstration event run by the National Dairy Council in London.
Shotlist: No title or credits. Driver helps woman to alight from bus. She walks into Dairy Council building, followed by others, ints. seminar room. NDC Director George Speekman? welcomes group to event, and introduces demonstrator Mary Somerset. Gvs Dairy cookery demonstration; savoury flan with Lancashire cheese intercut c/u audience faces. Demo trifle, pours custard and refrigerates. Demo soup using milk; pour into bowls and adds cream, run over back of spoon. Demo cream meringue. Savoury boats demo, shortcrust pastry is dressed with cheeses. MS makes a selection of hot and cold drinks using milk. Q & A session; director answers audience questions on homogenised milk, how long milk keeps; why some creams won't whip; varieties of cheese. THE NATIONAL DAIRY COUNCIL [address] ecs