CARNWATH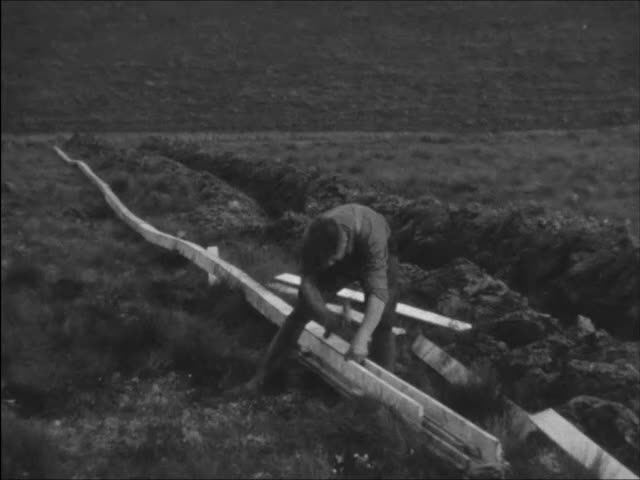 This video is not available to view remotely
Full length video - onsite only
Please read Understanding catalogue records for help interpreting this information and Using footage for more information about accessing this film.
Title: CARNWATH
Reference number: 10897
Date: 1937c
Sound: silent
Original format: 16mm
Colour: bw
Fiction: non-fiction
Running time: 8.39 mins
Description: A team of workmen construct drainage channels in a peat bog near Carnwath.
Shotlist: No title. gvs men reseeding deep peat - using earth moving equipment to dig ditch/hole in peat bog; shovel release mechanism to allow soil to empty; c/u machine. men use tractor to pull large ditch cutter through earth. Ls man standing by ditch; make a drainage channel, men deepen ditch by hand; man constructs long wooden case for drainage using a frame which he drags along as he works; c/u case. Men drop case into ditch; pan field; men shovel lime? Two men drop lime into pile beside trailer; other men spread lime? Tractor rolling on tracks pulls machine which breaks up clods. Gvs tractor spreading herbicide?; drawing harrow, roller, sowing? apparatus.