AMONG THE MANY VISITORS...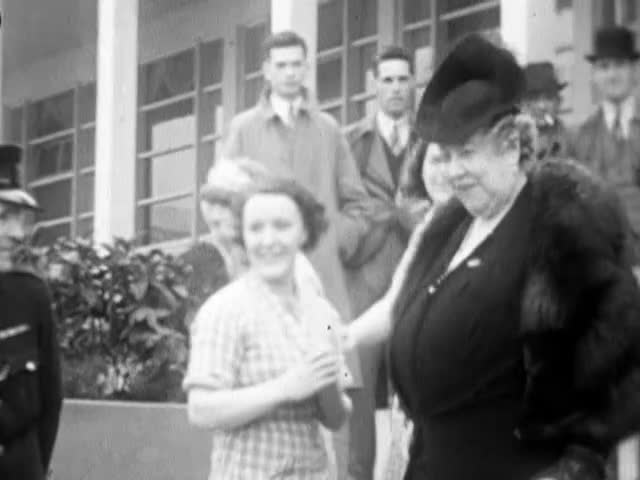 This video is not available to view remotely
Video 1

(currently displayed video)

Full length video - full length available onsite

Visitors and pageantry at the Empire Exhibition in Glasgow, including Mary, Queen Mother, South African war veterans, Secretary of State for War Leslie Hore-Belisha and popular singer Florrie Forde. (clip)
Please read Understanding catalogue records for help interpreting this information and Using footage for more information about accessing this film.
Title: AMONG THE MANY VISITORS...
Reference number: 1067
Date: 1938
Director: [filmed by William S. Manson]
Sound: silent
Original format: 9.5mm
Colour: bw
Fiction: non-fiction
Running time: 2.00 minsc
Description: Scenes of events held in Glasgow during the Empire Exhibition, for example an historical pageant, a Boys' Brigade display and a Scout rally.
Shotlist: No credits. May 30, Mary, Queen Mother. Shots of Queen Mary at entrance to pavilion in the Empire Exhibition, Bellahouston Park, Glasgow. South African war veterans. Pipe band leads the veterans in parade through exhibition grounds. Mr Hore-Belisha. Shot of same and party coming out of pavilion. Miss Florrie Forde. popular singer Florrie Forde and party leave pavilion. Newspaper headline "12 Millionth visitor". Some events connected with Empire Exhibition. May 21 BB Display in Ibrox Stadium. General views of the display, salute and march past. Display of gymnastics. June 4, National Scout Rally. A Pageant of Empire. Several shots of the historical pageant in Ibrox Stadium (?), including Vikings, Saxons, Jacobites, man leading an elephant, "Britannia" on her chariot, representatives from various countries. Poster reading "Services Display", general views of the display including dramatisation of Charge of the Light Brigade, display of horsemanship and motorcycling. Home Fleet visits the Clyde. Long shots from shore of naval vessels in the Firth of Clyde. The End.