ST. KILDA: Its People and Birds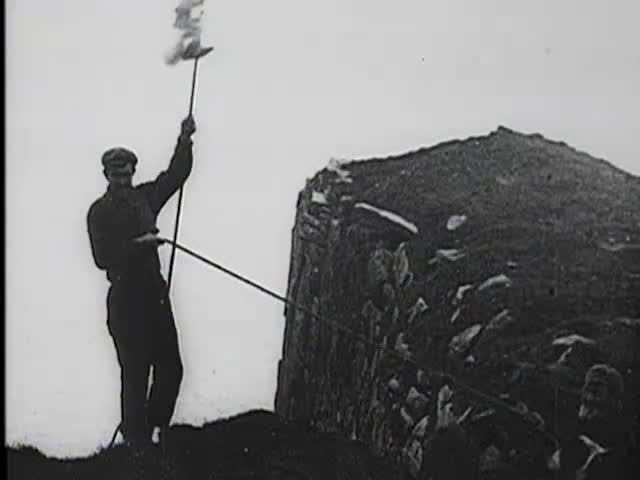 This video is not available to view remotely
Full length video - onsite only
Please read Understanding catalogue records for help interpreting this information and Using footage for more information about accessing this film.
Title: ST. KILDA: Its People and Birds
Reference number: 0988
Date: 1908
Director: filmed by Oliver G. Pike of Williamson Kinematograph Co. Ltd.
Production company: Williamson Kinematograph Company
Sound: silent
Original format: 35mm
Colour: bw
Fiction: non-fiction
Running time: 5 mins
Description: Bird life on St. Kilda, including shots of islanders snaring young fulmars, the St. Kildans' staple food.

Copy made from material preserved by NFTVA. See also ISLAND OF ST KILDA for Pathe's re-issued version 1918-1922.

See Bioscope No. 101 18 September 1908, p13.
Shotlist: Credits (.05); Left to the mercy of the waves. Shots of mail bag floating on surface of water (.13); Return from a fishing expedition. Two rowing boats approach pier and tie up. Men unload fish onto quayside (.51); Landing on the Bird Rock. Man scrambles from rowing boat onto rocks at water's edge, aided by a rope (1.10); The fulmar petrel. General views of fulmars nesting on cliff face (1.33); Close-up of female sitting on eggs (1.45); Young fulmars. The St Kildans staple food. Close-up of young bird on nest (1.59); Bird snarer descending a cliff. Shot across to cliff top as man lowers himself down cliff face by rope (2.19); The fulmar captured. Man appears over the edge at top of cliff with a bird in his noose (2.34); Shot of cliff face covered by nesting birds (2.48); Herring gulls in the bay of St Kilda. Shots of the birds on rocks at water's edge (3.01)