CONSTRUCTION OF THE RITZ CINEMA, EDINBURGH 1929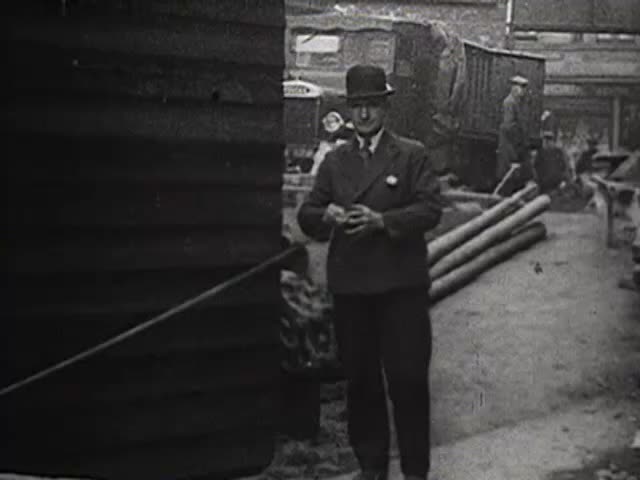 This video is not available to view remotely
Construction workers on site at the Ritz Cinema in Edinburgh and a look at the new sound apparatus. (clip - onsite only)
Please read Understanding catalogue records for help interpreting this information and Using footage for more information about accessing this film.
Title: CONSTRUCTION OF THE RITZ CINEMA, EDINBURGH 1929
Reference number: 0774
Date: 1929
Director: filmed by James S. Nairn
Sound: silent
Original format: 35mm
Colour: bw
Fiction: non-fiction
Running time: 14.44 mins
Description: The construction of the Ritz Cinema, from virgin site to opening day. The new projection facilities are shown and the cinema staff introduce themselves.

Film made by the first manager of the Ritz and shown on the first anniversary of the opening of the cinema in September 1929.

See also tape recording by James S. Nairn on the making of the film. Also Phillips videocassette viewing copy with commentary by J. S. Nairn. Transcript held at National Library of Scotland Moving Image Archive. The film appears to have a production date of 1929 but a release date of 1930 [information extracted from the Scottish Film & Television Archive catalogue "Scotland in Silent Cinema".]
Credits: [Made by James S Nairn, opening manager of the Ritz]
Shotlist: No credits. Mr David A Stewart, Director, Surveying the site. Shots on site of the Director, wearing a bowler hat, with a measuring tape, workmen look on. Wagon in background (.18); Demolition of the property starts. Shots of demolition squad at work on roofing and walls (.43); General view of foundations. Shots of building site in the early stages as the foundations are laid (.53); The architect Mr W E Glen, marking position of the first column. Architect and drawings on site. Three workmen with hods full of bricks pose for camera (1.07); Bricklayer at work construction a wall. Tram passes in background (1.16); Human sparrows. Man walks across skeleton beams of roof. Shots of men working on roof (1.31); Birds in sky above (1.34); Workman is "hit" by bird droppings! (1.42); The lather starts. Workman hammers lathes onto frame (1.45); Plaster frieze. Shots of internal walls and frieze at top. Shot of another section (1.52); Ventilating panel. Shot of same through framework (1.58); Joiner saws at timber (2.01); Now how's the front progressing. Shot of half-built facade as traffic passes below (2.14); Mixing concrete for base of solumns. Men smash blocks into rubble, mix pile of concrete (2.27); Column being levered into position. Men lever an iron girder into place (2.33); The derrick now plays its part. Crane hoists iron column into vertical position (2.51); Lowering column down to foundation. Crane lowers column (3.00); Foundation twenty-two feet deep. Man at bottom of hole holding onto column (3.05); Now for the brickwork. Bricklayer at work (3.14); One of the boys. Close-up of young workman smiling at camera (3.19); Bricklayer carries hod of bricks up ladder, the whistle blows as he is almost at the top, he climbs down again still carrying hod of bricks (3.28); Dinner time menu. Stewed tea, smoked corned beef sandwich. Tin cans full of tea heated on brazier. Workmen sit eating and drinking (3.52); Single span balcony girder weight twenty tons. General views of site and pan of girder in place (4.12); Piece-work. Man operates sawblade to notch length of timber (4.20); Notching the joists. Same shot from different angle (4.28); Joists hauled up to roof. General views of skeleton frame of roof, man slides down rope to ground (4.52); Medium shot of skeleton structure and shot of same from different angle (5.02); Men working on site. General views of building (5.16); Plumbers at work. Two men hammering on roof (5.22); Starting main entrance. Shots from roof as men work on site, a tram passes in street below. Shots across roof to workmen (5.45); Shot from street to building, now almost complete (5.51); Two flats up. Shots of work on site at higher level. Poster reading "Site of the Ritz" and shot up from wall to roof (6.08); The projection room on roof. Shots of brickwork housing projectors as man works on site (6.25); Roughcasting. Gaffer watches men at work (6.29); Would you like to try this? Man scales ladder balancing bucket of concrete on his head (6.45); Canopy being erected. Pan along length of canopy as it is put into place (6.59); Let's have a peep at the talkie apparatus. Shots inside room of projector head [very dark] (7.15); The sound head which is now being used with sound on film (discs are seldon used now). Shots inside box of equipment, projectors and arc lamps as projectionist operates machines (7.42); Sound disc. A sound disc rotating on turntable (7.56); Projector with sound disc deck? attached (8.10); Volume control. Dial on wall (8.16); Generators. Shot of same (8.22); Some interiors. Shot of foyer (8.27); Later. Facade of Ritz Sound Cinema showing THE WOLF OF WALL STREET, shot of entrance (8.48) This theatre is thoroughly washed and vacuum cleaned each day. Shots from inside theatre looking towards glass doors as cleaners polish the floors and a man walks in. Cleaner polishes the step (9.11); Inside auditorium woman vacuums the seats (9.20); Changing the screen which is done every six weeks. Men working at corner of screen (9.33); Would you like to meet the staff? Staff grouped together wave to camera (9.44); And now meet the manager Mr J Nairn. James Nairn smiles and bows to camera (9.51); And here are the ushers who will take your hand any dark evening - if it's to lead you to your seat. Ushers in uniform parade across picture (10.06); Here's Violet. Violet smiles and waves (10.12); Daisy. Daisy salutes. (10.17); Pansy - jogs into view (10.33); Iris - jumps about (10.29); Rose smiles (10.36); Lily - strikes a pose (10.43); Heliotrope - adopts comic pose (10.51); Dorothy Perkins - smiles (10.59); Chocolate. Chocolate boy with tray walks up to camera (11.07).