BOMBING OF THE CLYDE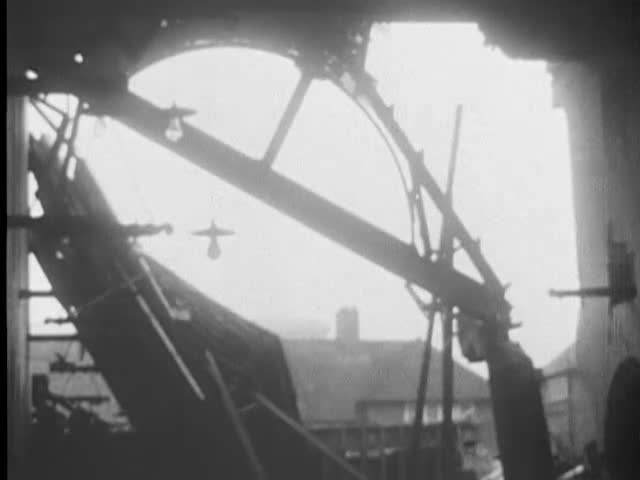 This video is not available to view remotely
Full length video - onsite only
Please read Understanding catalogue records for help interpreting this information and Using footage for more information about accessing this film.
Title: BOMBING OF THE CLYDE
Reference number: 0538
Date: 1941
Production company: [ Pathe]
Sound: silent
Original format: 35mm
Colour: bw
Fiction: non-fiction
Running time: 2 mins
Description: Unused news material shot by Pathe in Clydebank showing the aftermath of the Clydebank Blitz 13th -15th March 1941.

Copy of footage preserved in IWM Film Archive. Unused news material filmed by Pathe in March 1941 but never issued. Catalogued title CLYDEBANK BLITZ, MARCH 1941. The footage was shot in Second Avenue, John Knox Street and Kilbowie Road, Clydebank. There was a Polish ship in John Brown's for repairs at the time of the Blitz. Officers were recalled from shore leave and for two nights solid they operated the ship's guns against the German air attack in defence of Clydebank. In commemoration of this event, medals were struck, and there is now a Polish Square opposite Clydebank Town Hall.
Shotlist: [Unused news material shot by Pathe in Second Avenue, John Knox Street and Kilbowie Road in Clydebank]

No credits. Shot of notice reading "Services as Usual" (.04) various shots of damaged buildings, especially ruined church (1.07) repeat of shot "Services as Usual" (1.09) -Blank - (1.12) shot of a dog, civilian services at work in the ruins rescuing a body from the rubble and fighting a fire. gvs ARP wardens at work (2.14)