ALL ON A SUMMER'S DAY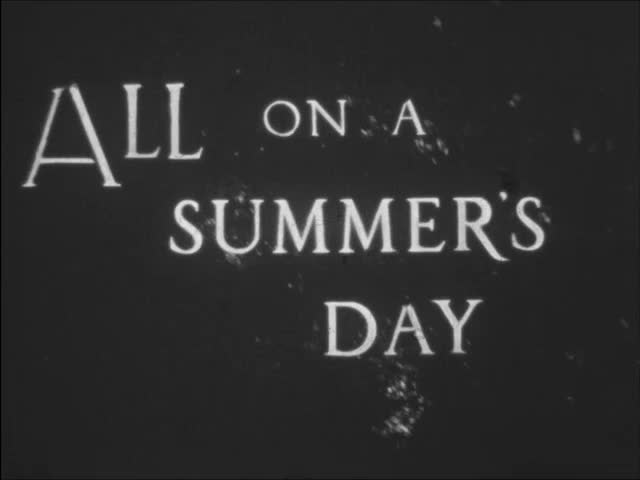 This video is not available to view remotely
Full length video - onsite only
Please read Understanding catalogue records for help interpreting this information and Using footage for more information about accessing this film.
Title: ALL ON A SUMMER'S DAY
Reference number: 0528
Date: 1933
Director: [filmed by Ian Ross]
Production company: Meteor Film Producing Society
Sound: silent
Original format: 16mm
Colour: bw
Fiction: fiction
Running time: 10.00 mins
Description: Various activities enjoyed on a summer's day by a young couple including swimming, golfing and a picnic.

Entered for what became Scottish Amateur Film Festival's, Open Competition, 1933. Won prize for best non-fiction film. Swimming pool scenes shot at Prestwick.
Credits: Meteor Film Producing Society presents
The Girl: Marjorie Saunders
[w., p. and ph. by Bill Fleming, Clifford J. Strain and Ian S. Ross
The Girl - Marjorie Saunders
The Boy - R. Muir Glen]
Shotlist: Credits (.08); Shot of calendar showing Monday 7 August 1933. Shots of a typewriter. Pages of the calendar flash by. The typewriter covered up (.31); Shots of a field of corn, a river bank (.47); Inside her bedroom, a girl gets up as her alarm clock rings, dresses and (2.24); Shots from the car as it travels along the road. They stop at the Meteor Golf Club (2.49); General views as woman tees off, golf in play (3.39); They get back into the car and drive off, arriving at the Popinjay Inn. Shots of the menu and of change on plate (4.14); Back in the car (4.24); Woman goes to swimming baths. Shots of the pool, swimmers and divers, the water chute (5.34); Shots from car on the road. They pull up at a beach and have a picnic (7.30); Shots from travelling car (7.47); Shots of city lights at night (8.04); Interior shots of a dance hall, people dancing, the band playing. People eat and drink (9.06); The girl arrives back home (9.27); She gets into bed looking at a photo of the man (9.36); Calendar flicks over to Tuesday 8 August (9.32); End credits (9.55); [Incomplete]