RIGHT CHOICE, the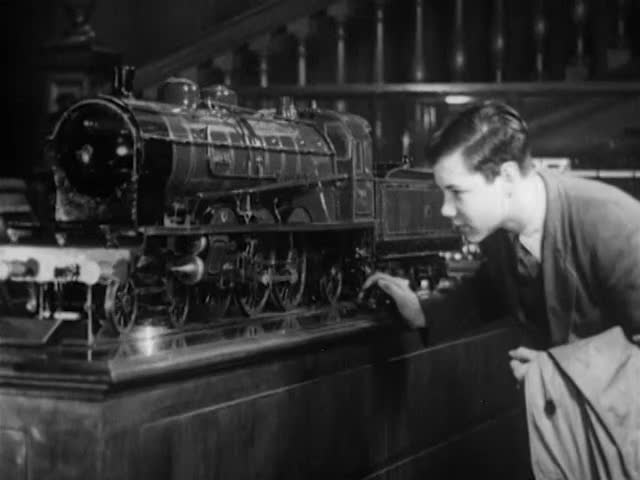 This video is not available to view remotely
Video 1

(currently displayed video)

Full length video - full length available onsite

Andrew has finished his apprenticeship and now works as a journeyman in the workshop, he is a skilled craftsman. The Managing Director signs his apprenticeship certificate. (clip)
Please read Understanding catalogue records for help interpreting this information and Using footage for more information about accessing this film.
Title: RIGHT CHOICE, the
Reference number: 0471
Date: 1949
Director: d. John S. Abott, Jnr. M.B.K.S.
Sponsor: [ North British Locomotive Company Limited]
Production company: Big Six Film Unit
Sound: sound
Original format: 16mm
Colour: bw
Fiction: non-fiction
Running time: 20.00 mins
Description: A promotional film for apprentice engineers showing the training offered by the North British Locomotive Co. in Springburn and the sport and leisure facilities available within the apprentices' club.

Glasgow University Archives hold papers relating to the North British Locomotive Co.
Credits: ph. Alfred Kemtiff
in charge of sound Charles W Green AM Inst BE.
m. De Wolfe
nar. Colin Neil Mackay
in charge of production Charles W Hancock M.I. Loco E. A.M.I. Prod E.
Shotlist: Credits (.30); Shot of railway station platform. Two young lads train spotting as steam locomotive no. 62059 pulls into the station (.59); Shot of exterior of North British locomotive offices in Springburn. Andrew West arrives for interview as an apprentice. Shots inside the head office. Andrew is interviewed, sits an intelligence test and goes back for further interview (3.45); Shot of the shop floor with locomotive under construction (4.05); Pre-apprentice school, shots of classroom and work bench (6.01); Managing Director addresses the apprentices and presents prizes for the best amongst them (7.20); Exterior of Springburn works and the apprentices club. Inside the club, shots of various activities and facilities, eg. billiards, table tennis, canteen, reading room. Members of the Committee of management in session (9.54); Model engineering club and some of their models (10.40); Archery club, fencing instructor, Donald Stewart, winner of the French Premier Award, the amateur boxing club with their instructor Rory McGory, ex British and Empire Featherweight Champion, boxing match, wrestling, Ju-jitsu, trainer David Munro, European Ju-Jitsu Champion (14.23)) Open air sports ground. Works team coached by Jimmy Simpson, ex-Rangers captain. Shot of Saturday match, watched by two joint directors of the company (15.57); Exhibition of amateur boxing (18.10); Andrew West now in machine shop. General views of shop floor (18.44); Issued with his Journeyman's Certificate by the Managing Director (19.46)