RIVER CLYDE - A SURVEY OF SCOTLAND'S GREATEST RIVER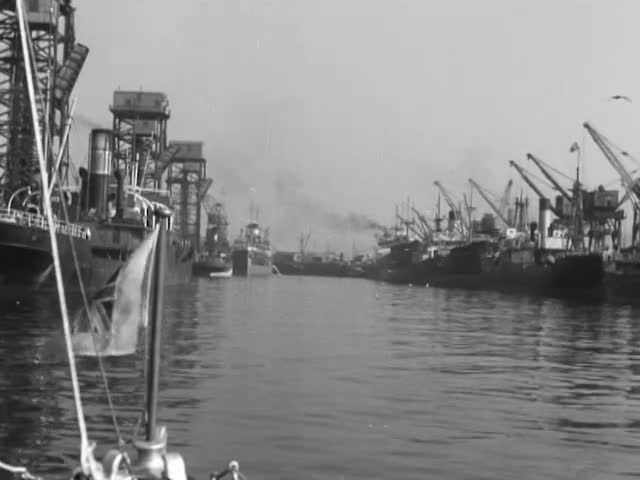 This video is not available to view remotely
Full length video - onsite only
Please read Understanding catalogue records for help interpreting this information and Using footage for more information about accessing this film.
Title: RIVER CLYDE - A SURVEY OF SCOTLAND'S GREATEST RIVER
Reference number: 0377
Date: 1939
Director: d. Stanley L. Russell
Sponsor: Clyde Navigation Trust
Production company: Scottish Film Productions
Sound: sound
Original format: 35mm
Colour: bw
Fiction: non-fiction
Running time: 20.00 mins
Description: The River Clyde is traced from its source down to the Firth of Clyde, with a review of its industrial life from Glasgow to Dumbarton.

The liner "Athenia" was the first non combatant naval vessel to be attacked by U-boats during the Second World War. Researcher has suggested the footage at the end of the film shows Athenia leaving the Clyde on the voyage during which she was attacked. See also "Scottish Field", April 1940.
Credits: sc. George Blake
sd. Malcolm Irvine
m. John McArthur
ph. Henry Cooper, Graham Thomson
comm. James McKechnie
Recorded on Albion Truphonic Sound System
[Made for the Clyde Navigation Trust]
Shotlist: REEL I
Credits (.30); gv's of the source of the River Clyde in the hills and of the area around Elvanfoot village; g.v's of the upper reaches of the water course (.27); ls industrial scenery on the river,gv's inside rolling mills and foundry (1.38); Glasgow from the river, yards and vessels in berths (2.02); Shots as vessels are loaded at dockside (2.09); Aerial views of the River Clyde as it enters the Firth. Ships in the channel (2.38); Shots of old paintings of eighteenth century Glasgow (2.44); gv's tugs pulling the liner "Queen Mary" alongside. Crowds on the quay (3.07); gv's dredgers working in the channel, chain buckets and engines, hopper barges being filled and discharging their load further down the river(4.56); gv's Cloch lighthouse. gv's pilot launch heading to liner, customs officials board vessel. Liner (possibly the Anchor Line ship 'Cilicia') passes up the channel past Greenock, Port Glasgow and Dumbarton Rock, and the monument to Robert Napier, an engine on a plinth (6.29); gv's the River Clyde and its banks from the liner (6.42); gv's oil tankers and installations at Dunglass, near Dumbarton (7.03); The watchhouse at Bowling (7.10);gv's crew on the bridge; ls the deck of the liner (7.43); shots from the liner as it passes the "Queen Elizabeth" in dock. gv's the "Queen Elizabeth" from a distance and in close-up (8.25); gv's shipyards, gantries, particularly Rothesay Dock. gv's of unloading. LMS trucks filled at quayside and take iron ore to steel works. Shots as large grabs lift the scrap metal from the hold (9.30); gv's of the Meadowside Granary (9.43); The cargo vessel "Maplewood" in dock. gv's of cargo of wheat and grain being sucked out and onto a conveyor belt. gv's of conveyor belt and grain inside the granary (10.29)

REEL II
No Credits. gv's of a man "sounding" the bin for wheat levels and using a granary thermometer. gv's of grain being cooled on a conveyor belt; gv's weighing and bagging department (.53); cattle arriving at layerage, gv's auction ring (1.20); ls Clyde dockyards (1.49); Cargo vessel No.3 graving dock for repairs. gv's men at work (2.14); opening of sluice gates and gv's of vessel making ready to go to sea (3.23); gv's queues on the Broomielaw and steamers at quay. The "Glen Sannox" moves past the "Queen Mary". gv's steamer and passengers (4.35); gv's steamer, possibly the "Glen Sannox", approaching Dunoon and then under way in the Firth. ls from behind as steamer passes back up river past dockyards in the evening (5.20); aerial views of the Clyde at Glasgow. gv's crane at Stobcross. gv's as large vessel is loaded (6.05); coal is loaded by skip in Perth Dock (6.40); "Blue Peter" signal flag. gv's passengers on liner (7.06); aerial shot as tug pulls the liner "Athenia" down the Clyde. It is stopped by patrol launch carrying the deputy harbour master (7.27); gv's of the launch of the "Canton" by Miss Celia Shaw. Shots as the vessel enters the water, taken from different camera angles. Tugs are attached to the "Canton" (8.51); Aerial shot of the "Athenia" in mid-channel as a steamer passes by and on to the sea (9.27); ecs (9.41)


Running time approx 20 minutes in total