STORY OF HILLINGTON, the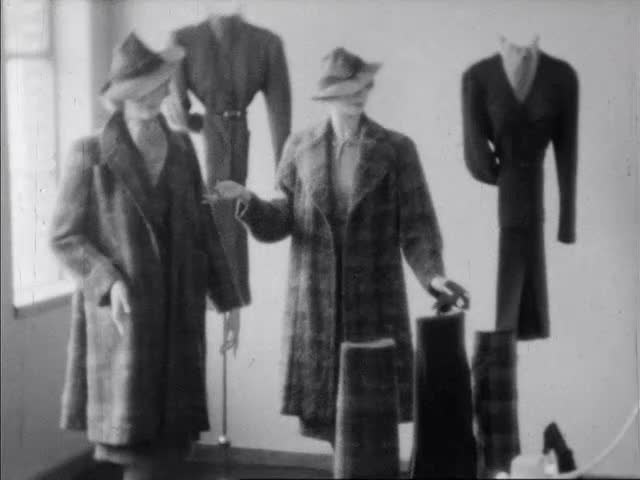 This video is not available to view remotely
Full length video - onsite only
Please read Understanding catalogue records for help interpreting this information and Using footage for more information about accessing this film.
Title: STORY OF HILLINGTON, the
Reference number: 0320
Date: 1947*
Sponsor: Glen-Har Limited
Production company: Jay's Film Service
Sound: silent
Original format: 16mm
Colour: bw
Fiction: non-fiction
Running time: 23.51 mins
Description: A look at 'Glen-Har' fashions including the various stages in the making of garments, to an exhibition of the final models. Factory workers are seen enjoying a Christmas party and on a visit to Patrick Thomson's store in Edinburgh.
Credits: Presented by the directors of Glen-Har
Produced by Jay's Film Services Limited Glasgow
Shotlist: Credits (.21) The founders, Mr Louis Harris and his son, Mr Jack Harris, inspect the building and progress of the new factory, May 1938. Shots as car arrives on construction site. The men look at plans and walk round skeleton building and the site (2.09) Mr J Harris and Mr J Rudolph inspect factory now nearing completion, October 1938. Shots of car and exterior of factory. Interior shots, two men and a woman walk around the factory (3.11) The new factory in full operation. Workforce occupied in manufacture of clothing (3.36) The "Guv'ner" tests some of the new equipment. Jack Harris wielding an iron (3.42) Some close-ups of the Glen-har " family. Workforce in various stages of garment manufacture, pressing, hand sewing, tailoring, stitching, cutting, etc. Shots of various groups of workers, long shot of floor area (6.07) The Glen-har display at the Hillington Exhibition. Gvs company stand at exhibition as models show off ladies' costumes and coats (6.44) The Xmas party at Hillington 1943. Group of workers and shots of dancing (8.24) Rolling out the barrel. Refreshments are served, more shots of dancing, jiving, fun and games, etc. (9.36) Theatre night dinner at the Cad'oro. Interior of large hall as people sit at long dining tables enjoying a meal and listening to speeches and band playing (15.10) Glen-har visit to Enterprise Scotland Exhibition, Edinburgh, August 1946. Departure from Central Station, Glasgow, 8.30am. Gvs station concourse and workers waiting for special train (18.16) Guard waves and steam locomotive pulls train away from platform (18.31) Party met at Princes Street station, Edinburgh, by Mr Jack Harris. Gvs train pulling into station and Mr Harris waiting on platform (18.49) Visit to Patrick Thomson's to inspect their display of Glen-har fashions. Group looking at window display of their products. Trams pass in the background (20.59) Outside Exhibition Hall at end of visit. Building decorated with flags of the Council of Industrial Design. Shots of Mr Harris and several others in Princes Street. Long shot with trams and cars (22.20) Departure from Princes Street station. Gvs women in station and locomotive steaming away (23.51)