BOWING PRINCIPLES FOR STRING PLAYERS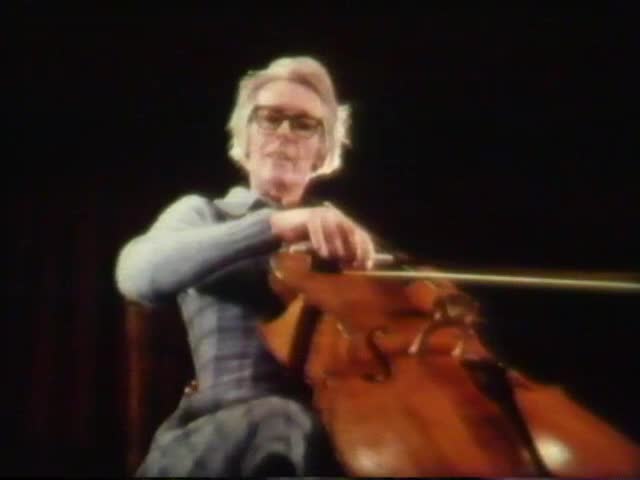 This video is not available to view remotely
Full length video - onsite only
Please read Understanding catalogue records for help interpreting this information and Using footage for more information about accessing this film.
Title: BOWING PRINCIPLES FOR STRING PLAYERS
Reference number: 0308
Date: 1975
Director: d. Michael Alexander
Sponsor: EFS [Educational Films of Scotland] / Scottish Arts Council
Production company: Pelicula Films
Sound: sound
Original format: 16mm
Colour: bw
Fiction: non-fiction
Running time: 15.11 mins
Description: Joan Dickson, a cellist, demonstrates bowing principles for string players.


Credits: devised and presented by Joan Dickson
ph. Mark Littlewood
sd. Louis Kramer
ed. Patrick Higson
Joan Dickson, Cellist, demonstrates the principles of movement of the bow.
Made by Pelicula Films for EFS and the Scottish Arts Council.
Shotlist: Joan Dickson playing the cello. c/u bow moving across strings (1.06) demonstration by walking across floor to illustrate the effect of stiffness in joints (1.31) c/u of bow on strings (2.07) shots of people in motion to illustrate joints' movement. Shots of pedestrians, cyclist, painter (2.46) bowing and arm movements (3.15) "wood sawing" exercise to develop the arm movements and how to hold the bow correctly (5.58) various movements in bowing are demonstrated (11.19) how to hold bow in fingers (13.34) shots of cellist from above and in front (14.48) ecs (15.11)