HOMES AND HAUNTS OF SCOTLAND'S PLOUGHMAN POET ROBERT BURNS, the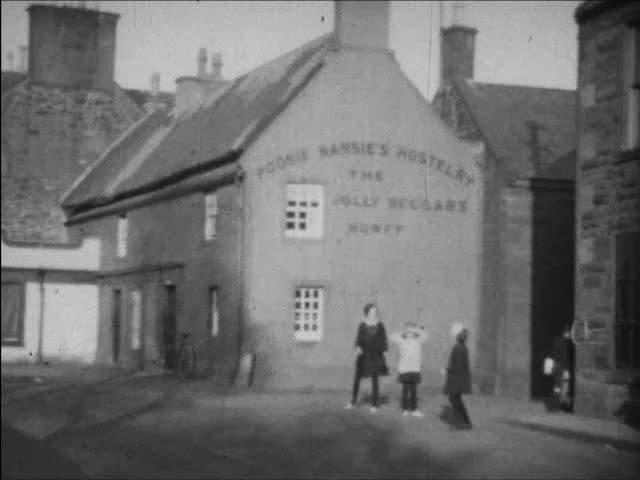 This video is not available to view remotely
Full length video - onsite only
Please read Understanding catalogue records for help interpreting this information and Using footage for more information about accessing this film.
Title: HOMES AND HAUNTS OF SCOTLAND'S PLOUGHMAN POET ROBERT BURNS, the
Reference number: 0292
Date: 1933
Director: filmed by J. French Gegg
Sound: silent
Original format: 16mm
Colour: bw
Fiction: non-fiction
Running time: 11 mins
Description: The homes and haunts of Robert Burns. His birthplace, Poosie Nansie's Inn, Gavin Hamilton's house where the poet was married, and the Tam O'Shanter Inn.
Credits: The homes and haunts of Scotland's ploughman poet, Robert Burns.
Taken with a 'Cine' Kodak under the direction of J French Gegg Esq during 1933. Places scenes and statements in this film were authenticated by the President of The Burns Federation in 1933 [signature of President].
Shotlist: Credits (.38) shots of Burns' birthplace. shots of farms at Mount Aliphant and Lochlea (2.35) shots of St. David's Lodge in Tarbolton, Mossgill Farm near Mauchline and also Poosie Nansie's Inn (2.40) shots in Kilmarnock where his first works were published. The Brigs of Ayr, the Nith at Dumfries and the Doon at Alloway (4.48) Willie's Mill and Gavin Hamilton's house where Burns was married. His house in Mauchline (6.04) Ellisland Farm, Dumfries, the Nith, Tam O'Shanter Inn, Alloway Church, Brig o' Doon (7.30) Shots of Dumfries. Mill Vennel (now Burns Street) where he lived. The Howffs of Burns and the steps where he fell ill before his death (8.38) the tree growing where he was first buried and the mausoleum where his remains now lie (9.05) shots of the Burns Memorial Homes for old folk near Mauchline (10.20)