FROM FOREST TO FACTORY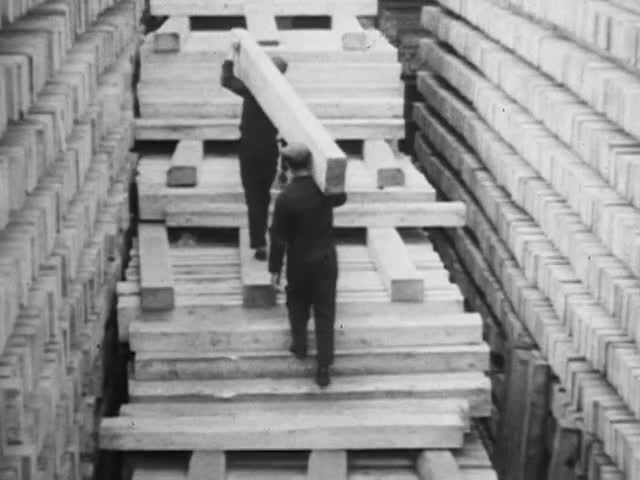 This video is not available to view remotely
Full length video - onsite only
Please read Understanding catalogue records for help interpreting this information and Using footage for more information about accessing this film.
Title: FROM FOREST TO FACTORY
Reference number: 0270
Date: 1959
Director: d. John Oliver
Sponsor: A. & G. Paterson Limited
Production company: Commercial and Educational Films
Sound: silent
Original format: 35mm
Colour: bw
Fiction: non-fiction
Running time: 19.00 mins
Description: A demonstration of how timber is felled and some of its products being assembled in the factory incuding trellis fencing and boxes.
Credits: ph. V. St. Locke
ph. L. Clifford
Shotlist: Reel 1
credits (0.30) captions describing timber and its uses (1.10) shots of forest of pine and spruce trees (2.00) forestry workers fell trees by axe and hand saw, trim off the branches and load logs onto horse-drawn cart (4.26) From the forest the logs when stripped of bark, are transported to boxmaking factories; logs taken by lorry to forest sawmill where they are cut to length. Machine for making fire sticks (6.04) shots of logs, stripped of bark, arriving at box factory in Glasgow. (6.58) Imported timber arrives at the factory by barge. gvs same (8.50) logs broken down into boards in progressive stages, with minimum loss in conversion. Shots of saw and men. Sawdust sucked away to be used as fuel for the boilers. The boards are cut to smaller sizes (9.33)

Reel 2
Boards cut to slimmer width. (1.28) Some box boards are machine-dressed, tounged and grooved. shots of boards emerging from machine cut with side grooves, intercut with workmen using sawdust vacuum (2.06) cutting to box lengths- dove tailing and printing where necessary- assembling and finishing gvs same. Shots of man operating printing machine for printing trade names on boxes, eg Ballantine's Liqueur Scotch Whiskey, assisted by boys; female factory workers assemble boxes (5.41) shots of assembly of trellis fencing and rustic work also done by factory (6.17) boxes varnished and then loaded onto lorry which leaves factory (A. & G. Paterson Ltd., St. Rollox Sawmills) (7.31) examples of various kinds of boxes in use. shots of horse drawn carts and lorries loaded with produce in different markets, etc. (8.35)