DIE ARMEE DES DUKE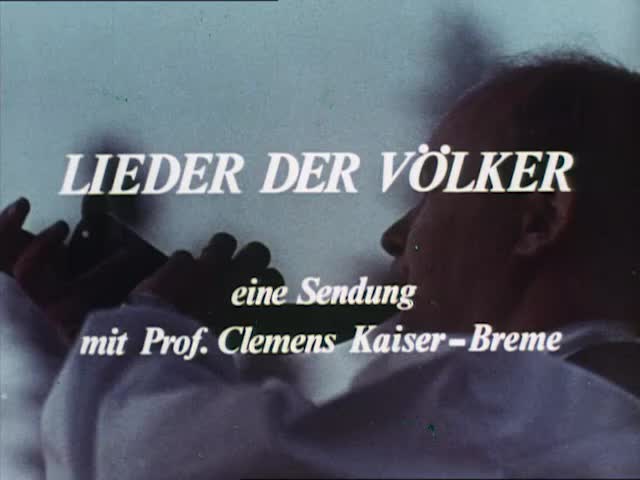 This video is not available to view remotely
Video 1

(currently displayed video)

Full length video - full length available onsite

Andy Hunter sings 'King Fareweel' in the music room at Blair Castle. (clip)
Please read Understanding catalogue records for help interpreting this information and Using footage for more information about accessing this film.
Title: DIE ARMEE DES DUKE
Reference number: 0098
Date: 1960s
Director: d. Robert Peter Hertwig
Sponsor: WWF Koln
Production company: Horst Film Productions
Sound: sound
Original format: 16mm
Colour: col
Fiction: non-fiction
Running time: 13.05 mins
Description: Scottish folk music from Jeannie Robertson, Jimmy McBeath and the Royal Scottish Country Dance Society. Filmed in Blair Castle. [German narrative]

See also ref 7226, "Auf Schottischen Schlachtfelden".

Credits: p. Hans Herro Krause
ed. Eva Kohlschein
cam. Dietmar Graf
comm. Professor Clemens Kaiser-Breme
m.p. Andy Hunter,
m.p. Cpl. A. Macrae of the Atholl Highlanders,
m.p. Dolina MacLennan,
cast Royal Scottish Country Dance Society,
cast Scottish Cameronians Rifles,
cast Roderick Gillies
Shotlist: ocs (0.05) Die Armee Des Duke [The Duke's Army] shots change of guard at Blair Castle, accompanied by piper; (1.52) piper at dinner, shots of mixed company in "Highland" dress at table, the piper gives a toast in Gaelic (3.15) five partners and a piper give a display of Scottish Country Dancing, in an antler-lined hall (4.31) gvs Blair Castle, [song: Hi Horo 's Na Horo Eile]; ints. castle stairwell, singer Dolina McLennan descends steps (6.33) ints. library; c/u portrait of 16th Century lady; c/u small [16thC?] organ; singer Andy Hunter plays guitar [song: King Fareweel] (9.55) piper and four men perform broadsword dance in armoury lined with guns and swords [ecs superimposed] (13.05)