LANIMER DAY, LANARK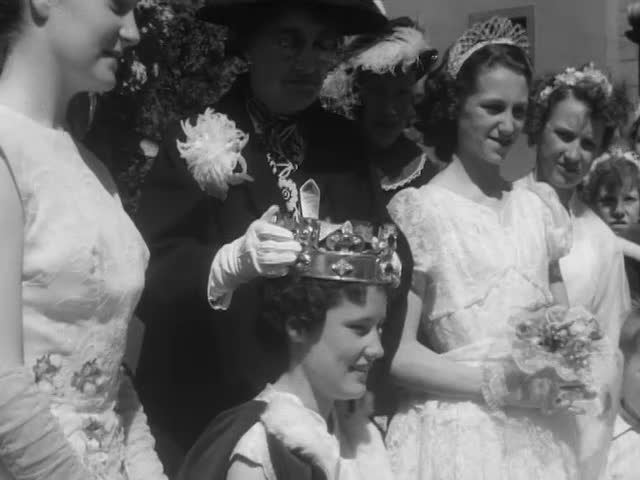 This video is not available to view remotely
Full length video - onsite only
Please read Understanding catalogue records for help interpreting this information and Using footage for more information about accessing this film.
Title: LANIMER DAY, LANARK
Reference number: 0046
Date: 1952 - 1960
Production company: Thames and Clyde Film Productions
Sound: sound
Original format: 35mm
Colour: bw
Fiction: non-fiction
Running time: 10.00 mins
Description: Lanark's Lanimer Day glimpsed through the years. Shots of a procession through the streets with some of the people carrying 'birks' (twigs). The Lanimer Queen is chosen.

Compilation of newsreel coverage by various companies. Made as topical for local cinema screening.

See also refs. 0018, 0087, 0088, 0089.

Lanark Lanimer is an ancient celebration held within the Royal Burgh of Lanark on the Thursday between the Sixth and Twelfth days of June annually since the year 1140. See website for further information at http://www.lanarklanimers.co.uk/ [last accessed 3/4/2008]
Credits: [newsreel footage by Scottish Movietone News 1952 and Movietone News (1957)
comm. Geoffrey Sumner (1952)]
Shotlist: Title. [1961] gvs Lord Cornet, Ian Orr carries the burgh flag, followed previous cornets on horseback; Lord Provost and Baillies; Lanark men carrying the ''birks" (0.45) gvs Floats procession (0.58) Lanimer Queen, Janet Hall passes in an open-topped car, and is led to the coronation ceremony by her champion, and crowned by Mrs Millar Stoddart (1.21) Lanimer Day [1958] gvs Lord Cornet Councillor Robert Shankland rides with previous Cornets at the head of the 818th anniversary of Lanark's Royal charter ; the birks; Lord Provost and Baillies (1.53) Floats procession; e.g Viking longboat, "Lilac Time" (2.45) pan down from William Wallace to Lord Provost, John Millar Stoddart presiding; Lord Provost leads Mrs Graham Meiklejohn to the platform; gvs crowning ceremony of Lanimer Queen, Sandra Nelson (5.20) Lanimer Day [1962] pipe band; Lord Cornet, William Hall leading procession on horseback; birks; floats procession, including a Devil, "Maw's? Kids", a float with men in drag "Your Life in their Hands", a saw doctors' parlour (6.42) Queen Jill MacAllister in an open-topped car; being led to her throne; crowning ceremony, Mrs Ferguson Robertson officiating; gvs crowd (7.19) No Title [1956]; Lord Cornet, Lord Provosts lead procession; floats procession (8.05) Lanimer Queen, Susan Hamilton in open-topped car is escorted to her throne by her champion; Provost Meiklejohn accompanies Mrs W. D. Campbell to the crowning ceremony (08:25) Lanimer Day [1960] Lord Cornet Thomas Tennant; Lord Provost; floats procession (9.19) Lanimer Queen, Elizabeth Frood in a horse-drawn carriage; crowning ceremony, with Baillie Mrs Janet Thom (9.31) Lanimer Day [1957] Band of H.M.S. Caledonia; Lord Cornet John Hume rides at the head of the procession, followed by Provost Meiklejohn and Baillies; floats procession; pipe band; Boy's Brigade carrying Australian flag; "Mother Goose" float (11.07) Lanimer Queen Margaret [Rita] Mann in open topped car; gvs crowd (11.40) The End.