1935 K & D MC FILM KIRKCALDY AND DISTRICT MOTOR CLUB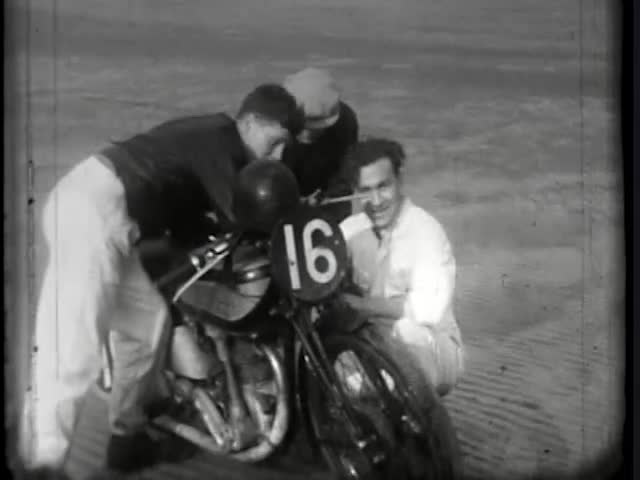 This video is not available to view remotely
Full length video - onsite only
Please read Understanding catalogue records for help interpreting this information and Using footage for more information about accessing this film.
Title: 1935 K & D MC FILM KIRKCALDY AND DISTRICT MOTOR CLUB
Reference number: 4658
Date: 1935
Director: [attrib. Dr Swanston]
Sound: silent
Original format: 9.5mm
Colour: bw
Fiction: non-fiction
Running time: 11.44 mins
Description: Activities of the Kirkcaldy and District Motor Club, 1935. General views of a motor cycle race at St Andrews (?) beach. Motor club trip to Blackpool for a rally. General views of various amusements such as a model train, tiny motor boats, a trip in an aeroplane. Footage of the Isle of Man Amateur Grand Prix.

See paper archive 3/8.
Shotlist: [Originally shotlisted from 9.5mm - shotlist timings subsequently added from Beta SP, control track]

(0.00) title (in the form of initials on screen); As in last years members have competed successfully everywhere. Motorcycle race on beach. Man waving flag. Sign 'Sand Race Here Today 5pm'. Crowds watch as motorcycles race in circle. C/u motorcycle number 16, stopped. Gvs motorcycles on sand. Truck passes with 'Event 4. First 29. Second 28. Third 4' painted on side of door. Motorcycle passes through water on beach. Gvs motorcycles racing on sand (1.49) Leven. Motorcycles racing in circular fashion on beach, (Firth of Clyde?) Brief c/u motorcyclist. Cars drives circular (2.59) Treasure Hunt. Pan crowds dressed in long coats and hats. Pan cars ready to set off, driver waves. Brief view jolly crowd (3.35) Blackpool Rally. Several cars driving, including veteran sports cars. Gvs cars in busy street. Men and women fooling around at beach - throwing each other etc. Pan shot people having picnic. Sign 'Start'. View from rear of small veteran sports cars setting off on country road. Drivers with goggles and helmets. Gvs driving cars on road (5.31) Off for more cups. Two men with giant roll of paper. Wrapped motorcycle (?), writing 'Norton. Dr Swanston. Ulverston'. Pan shot street scene, tram passing. Sea crashing on rocks. Sign 'Railway Air Services'. Bi-plane flying. People watching from ground as bi-plane lands. People board. C/u cockpit, faces of passengers. View from plane as it takes off, view of ground. Elevated view children on bicycles, tricycles in enclosed area. Amusement cars in small racetrack . Sign 'Brooklands Racer'. Man in hat in small model boat, with funnel, in water. View from plane. Man in boat waving. View from plane approaching land. People disembarking from twin propellor bi-plane. Model boats (9.04) Manx Grand Prix Junior. Two contestants. Blyth Beat By Munks By 7 Seconds. Motorcycles, c/u drivers. Crowds walking past Municipal playing Fields. Presentation ceremony. Course map (9.59) The Greatest Prize in amateur Motorcycling. C/u cup. Senior MGP Postponed. Massed Start. Pan shot racing motorcycles with numbers. Crowd in grandstand. Contestants with numbers strapped on. Busy area - race finished (?) Again pipped by Munks. 10 Seconds. Aerial view from plane. Man in model boat. Again we wish you happy motoring and nae bother (11.44)