GENERAL TERMINUS QUAY; HUNTERSTON ORE TERMINAL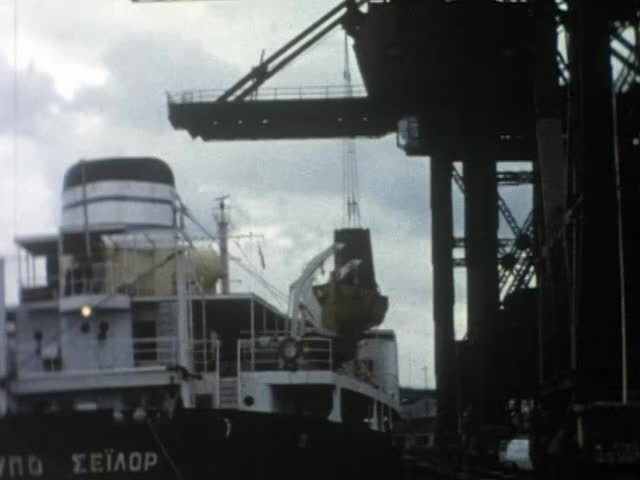 This video is not available to view remotely
Full length video - onsite only
Please read Understanding catalogue records for help interpreting this information and Using footage for more information about accessing this film.
Title: GENERAL TERMINUS QUAY; HUNTERSTON ORE TERMINAL
Reference number: 4596
Date: 1979
Director: filmed by Mr Tom Urie
Sound: silent
Original format: std. 8mm
Colour: col
Fiction: non-fiction
Running time: 11.48 mins
Description: General views at General Terminus Quay, Glasgow. Celebratory scenes at the official opening of Hunterston Ore Terminal in June 1959, as well as detailed views of the operation.

Shotlisted with the aid of notes provided by Mr Urie.

See also ref. 6109 GENERAL TERMINUS QUAY.
Shotlist: [Shotlisted with the aid of notes provided by Mr Urie. Timings from VHS copy, converted from 25 fps.]

[GENERAL TERMINUS QUAY, GLASGOW] Greek ore ship unloading (01:04) the ore is fed onto a conveyor belt and taken to storage hoppers from which it is later loaded onto railway wagons (1:43) [HUNTERSTON ORE TERMINAL] view of ship (R Y B?) (02:01) pipe band plays at the opening of Hunterston Ore Terminal, gvs terminal and views around, including coach arriving for opening (2:44) brass band, shot of officials at canopy and podium, people gather around (3:16) Queen Mother gives opening speech and unveils plaque that reads 'This plaque was unveiled by Her Majesty Queen Elizabeth The Queen Mother on 5th June 1979 to mark the opening of the Hunterston Ore Terminal' (3:52) Queen Mother tours crowds; departs in car (04:04) shot of pipe band (4:23) passing shot terminal and gvs shore (5.36) at terminal and aerial view of Royal Yacht 'Britannia', an ore carrier passing, gvs from the sea, views of Hunterston Power Station, the direct reduction plant, the ore unloaders, an ore carrier - on one of the unloaders 'Atlantic Splendour' we see a shot of anemometer at top (8.58) 'Keppel' ship (9:52) gvs on the ore carrier (10:42) the ore stockyards, machinery, cranes, empty bing container, gvs piles of ore and lifting equipment etc, c/u plaque again (11.41) The End (11.48)