CONSECRATION OF BISHOP JAMES WARD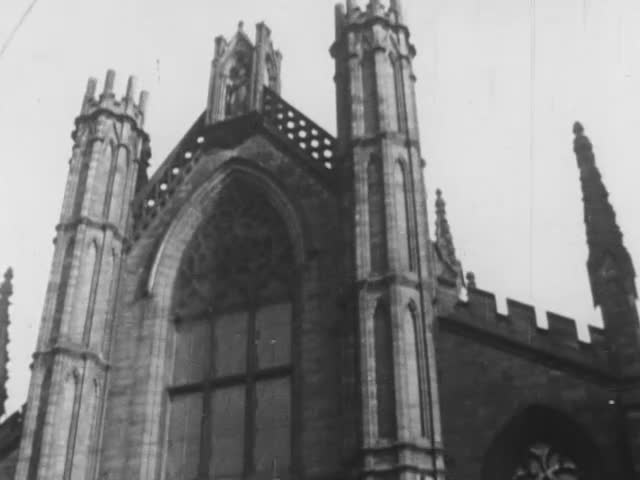 This video is not available to view remotely
Full length video - onsite only
Please read Understanding catalogue records for help interpreting this information and Using footage for more information about accessing this film.
Title: CONSECRATION OF BISHOP JAMES WARD
Reference number: 2504
Date: 1960, September 21
Sound: mute
Original format: 16mm
Colour: bw
Fiction: non-fiction
Running time: 5.53 mins
Description: Episcopal consecration ceremony of Bishop James Ward on 21st September 1960 when he was made titular Bishop of Sita and Bishop Auxiliary of Glasgow.

This film was originally catalogued with the title CONSECRATION OF MONSEIGNEUR WARD OF ST. MARY'S CALTON'. However, it would seem this is incorrect and therefore the film has been retitled, April 2009. St. Mary's in Calton at that time had a priest of a similar name (V. Rev. Michael Canon Ward).
Credits: [possibly television newsfilm]
Shotlist: ext. Cathedral; Crowds watching as procession of priests enter (1.00) int. of cathedral and consecration ceremony; bishop reads from text; shots clergy; celebrant [bishop?] consecrates priest as Monsigneur (3.55) c/u and m/s choir and choir master conducting (5.11) [blank insert] (5.15) int. shots including congregation and final moments of ceremony; ceremonial party leaving the cathedral; blessing the congregation (5.53)

[Consecration performed by Donald Campbell, Archbishop of Glasgow, assisted by James Black, Bishop of Paisley, and William Andrew Hart, Bishop of Dunkeld.]