LION AND THE LAMB, the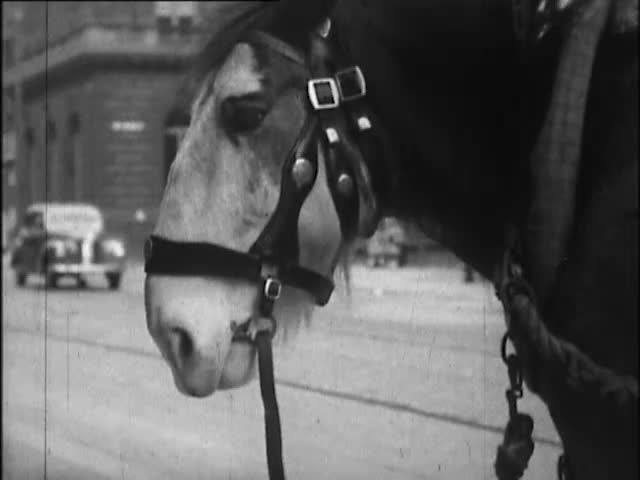 This video is not available to view remotely
How the SPCA looks after the welfare of dray horses on the busy streets of Glasgow. (clip - onsite only)
Please read Understanding catalogue records for help interpreting this information and Using footage for more information about accessing this film.
Title: LION AND THE LAMB, the
Reference number: 0109
Date: 1950c
Director: d. Stanley L. Russell
Sponsor: Glasgow and West of Scotland SPCA
Production company: Thames and Clyde
Sound: sound
Original format: 16mm
Colour: bw
Fiction: non-fiction
Running time: 17.00 mins
Description: SPCA inspects farm and transport of livestock, and illustrates the proper care of both working animals and pets. Also outlines SPCA's role in rehoming animals, and in educating children about pet care.

Shotlist: credits missing. Shot of man, stroking a black dog, introduces different animals, intercut with shots of figurine and real animals (.49)visits by SPCA inspectors to farm and transport points, includes gvs of a calf being restrained in a sack and laid in a Landrover for transport, also men shearing sheep with hand shears, chicks being packed into boxes, care of cattle being transported by ship (8.19) gvs of dray horses walking up West Nile Street and stables, Tammy the pit pony being rehomed by the SPCA and general commentary on the need for care for animals' welfare (10.49) gvs household pets being bought, includes small cat having its broken leg put into a cast by a female vet, boy training his dog. (13.45) gvs zoo animals, lions and cubs in a cage (14.05) schools' involvement and recruitment into Animal Defenders Corps including nature walk, and shots of ferrets and deer, and a gin trap (17.00) The foregoing film was presented to you by the Glasgow & West of Scotland Society for the Prevention of Cruelty to Animals. The Society was founded in Glasgow in 1856 to meet the demand of the public and it has been loyally supported by the public ever since. The Area covered by the Society's Inspector extends to the City of Glasgow and the Counties of ARGYLL AYR BUTE DUNBARTON LANARK RENFREW STIRLING. With the continued support of the public the Society will maintain and expand its beneficent work on behalf of animals. (18.05)